By Expedia, on January 24, 2019
Where to stay in New York City
You know the names of New York's boroughs, from sleek Manhattan to hip Brooklyn. But what about the best neighborhoods to find hotels within those boroughs? This is your quick guide to what to expect from each of these hotspots, so you'll know where to stay in NYC.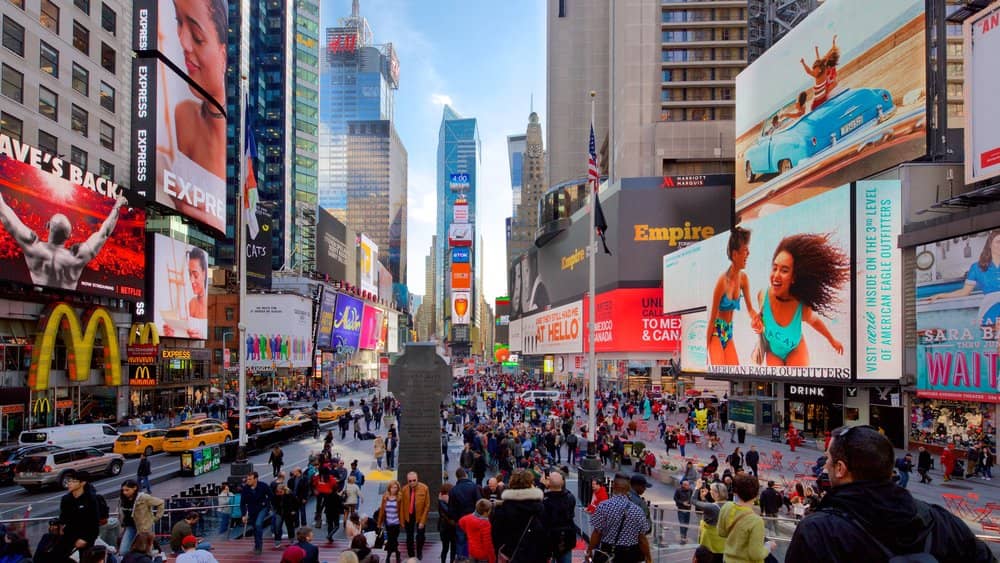 If you're eager for the classic vision of New York, Midtown is the place to come. This is the NYC of movies and TV shows, of the Empire State Building and Times Square, not to mention the razzle-dazzle of Broadway. With its up-scale vibe and glittering, family-friendly attractions, it's certainly a prime contender when thinking about where to stay in New York City. Whether you're here to shop, sightsee, or take in a show, the Midtown central business district is where it's at.
Anyone who's seen Gossip Girl, Sex and the City, or Breakfast at Tiffany's will be starry-eyed in the Upper East Side of Manhattan. This is perhaps the most luxurious slice of New York City, where you can shop and dine like an A-lister. There's serious culture here too, though, thanks to the presence of Museum Mile. Check out iconic masterpieces in the Metropolitan Museum of Art, and be sure to take a photo of the Guggenheim, with its famous cylindrical building designed by Frank Lloyd Wright.
The Lower East Side has always been known as a dynamic district where cultures meet and mix. See for yourself in areas like Little Italy and Chinatown, not to mention Jewish delis and restaurants like Katz's Delicatessen, where the pastrami on rye is legendary. These days, the Lower East Side is also a hub for artists and music lovers, with some of the hippest nightspots in the city. From cocktail bars to craft beer joints, there's a lot to keep you up way past bedtime.
With its old industrial warehouses now revamped and rebooted as luxury pads catering to well-heeled New Yorkers, Tribeca is a magnet for movie stars. In fact, it hosts the star-spangled Tribeca Film Festival every year. But mere mortals will love this slice of Lower Manhattan too, thanks to the wealth of chic restaurants and the historic architecture at every turn. Movie fans will want to keep an eye out for the headquarters of the Ghostbusters, which still operates as a firehouse today.
Among places to stay in New York City, SoHo is an enduring favorite. Anyone who loves architecture will enjoy the famous cast-iron buildings of the SoHo Historic District, which once attracted waves of artists during a period of gentrification. Now, though, SoHo is known as a shopping haven, with its glittering array of boutiques, set in vintage industrial buildings, drawing in the fashionistas. The local restaurants are tantalizing as well, whether you want to dig into classic Italian dishes or juicy steaks.
Once the core of bohemian culture in the Big Apple, Greenwich Village is one of the best places to stay in New York City. Its reputation as an artist haven is still strong, with many coming to walk in the footsteps of countercultural icons like Bob Dylan and Jack Kerouac. The presence of the New York University (NYU) campus adds a nice collegiate atmosphere, while cutting-edge plays can be enjoyed in the Off-Broadway and Off-Off-Broadway venues dotted throughout the neighborhood.
This historic neighborhood is one of the great centers of African-American culture in the whole of the United States. Back in the early 20th century it saw a blossoming of black American literature, music, and art known as the Harlem Renaissance. Today, you can soak up the local jazz and hip-hop scene, and visit iconic venues like the Apollo Theater, where the likes of James Brown and B.B. King once played. Be sure to check out the countless churches and other architectural gems as well.
DUMBO
Deluxe lofts, cool restaurants, and independent art galleries all help make DUMBO one of the most sought-after districts in New York. Close to Manhattan, it's the most up-scale part of Brooklyn, partly thanks to the tech start-ups that make their home amid its cobblestone streets and revamped warehouses. Boasting trendy boutiques as well as restaurants and coffee houses where cutting-edge creative types hang out, DUMBO is one of the most forward-thinking parts of the city, with great views of the river too.
The very word Williamsburg has become synonymous with hipster culture, a fact that announces itself through the vivid street art that adorns these famous streets. Anyone into food will be in their element, with indulgent brunch spots, authentic Chinese restaurants, and ramen joints dotted throughout the neighborhood. Galleries, clubs, and cocktail bars all form part of Williamsburg's vibrant tapestry, although many old-time Italian, Jewish, and Puerto Rican hangouts have resisted the forces of hipster gentrification, even here.
When thinking about where to stay in New York City, Astoria might not spring immediately to mind. But this part of Queens is certainly worth considering. It has a nicely laid-back feel, offering a refuge from the buzz of Brooklyn and Manhattan, both of which you can get to easily on the subway. Astoria itself has plenty of things to discover, including the restaurants of the Greektown area, and the Steinway & Sons factory. Here, you can go on a tour to see the prized pianos being made.
If you have a taste for Asian cuisine, Flushing is where to stay in New York City. In fact, some call it the Chinese Manhattan, and you can feast on Szechuan, Cantonese, and Hunanese dishes at countless, buzzing joints in the district. There are eye-catching landmarks here, too, including the futuristic-looking Unisphere, a steel sculpture of the Earth. You might also want to make a pilgrimage to Arthur Ashe Stadium, which is the biggest tennis stadium in the world.
Want to explore the Big Apple, but like the idea of a quieter enclave to make your own? Try Staten Island, which often passes under the radar of visitors to New York. There's a lot to see here, though. Try stepping back in time in Historic Richmond Town, a living museum with structures dating back centuries. Getting to and from Staten Island is an adventure in itself, thanks to the free ferry service, which provides some of the greatest views of the cityscape.
Pelham Bay
Where to stay in New York City? The Bronx is another possibility, with the residential district of Pelham Bay making a great base while you're here. You can get back to nature at nearby Pelham Bay Park, a sprawling realm of forests and peninsulas, which is considerably larger than Central Park. You'll also be close to some of the city's most beloved attractions, including the vast Bronx Zoo and Yankee Stadium, the sacred homeland of the New York Yankees.
Feeling inspired? Whether you want to be in the middle of the Brooklyn action, or take time out in Staten Island, book a pad in your perfect part of New York now, and get set for one of the greatest cities on Earth.