By Expedia, on July 29, 2019
8 Summer Destinations for Great Music
Nothing says summer like cut-off shorts, a full tank of gas, and an open highway full of endless possibilities, but no summer road trip is complete without a scorching soundtrack, so here's a list of 8 decibel-raising summer music destinations bursting with live-music venues, summer music festivals, and legendary landmarks.
Set 20 miles east of the midcentury Mecca of Palm Springs, quaint Indio, California, sees its population explode every April, when globetrotting music fans flock to the Coachella Festival, a thrilling, attraction-packed event held at the Empire Polo Club over consecutive weekends. Coachella's become a bucket-list festival for travelers from around the world, but if you prefer pickup trucks and cowboy hats to kinetic art installations and Instagram influencers, then pop by for the Stagecoach Festival, an unpretentious, meat-and-potatoes event featuring some of country music's biggest stars.
Denver's reputation as a buzzy hub for innovative music is growing by leaps and bounds, and an influx of eclectic new musicians and booming bars have positioned the Mile High City as music's next hotspot: think 90s Seattle with prettier sunsets, bigger beats, and thinner air. Check out some EDM at the Black Box in Cap Hill, catch a punk show at the Larimer Lounge, and stop by Your Mom's House to see bands before they get big.
If you're looking to plan the road trip of a lifetime then pack your bags, put the pedal to the metal, and head to Black Rock City, a temporary metropolis constructed yearly in Nevada's rugged desert.  Black Rock City hosts the Burning Man festival, a bohemian, community-focused get-together based on "radical self expression".  Although Burning Man's enormous flaming effigy, money-free environment, and outlandish mutant vehicles might recall dystopian sci-fi, the festival's a non-stop party with vibrant art and lively music.
A hotbed of jazz, zydeco, blues, and bounce, New Orleans is perhaps America's most musical city, and a must-visit metropolis for any self-respecting music lover. It's no surprise that New Orleans boasts a number of popular music festivals, including the famed Jazz & Heritage Festival, the French Quarter Festival, the one-of-a-kind Voodoo Music Experience, and the Essence Festival, a boisterous annual event that's welcomed everyone from Michelle Obama to Janet Jackson. Stop by Preservation Hall to catch some hot jazz, and shop for vinyl at Louisiana Music Factory.
Brooklyn's more than $10 non-fat caramel lattes and artisanal mayonnaise shops, it's also Jay-Z, the Beastie Boys, and Clinton Hill, site of the Notorious B.I.G.'s childhood home. Music fans visiting in August can sign up for a Brooklyn tour taking in some of hip-hop's most notable sites, and then hit the Afropunk festival, an annual event featuring some of the world's best DJs, hippest musicians, and most cutting-edge artists. Visitors coming in May, meanwhile, can drop by 37d03d, a hyper-indie happening with DIY attitude.
Turn up the volume on your summer with a trip to saucy Miami, one of America's liveliest destinations. Not only does Magic City have a number of spectacular Latin clubs, including the fabulously retro Ball & Chain, set in a historic venue that once hosted Billy Holiday and Chet Baker, it's also home to some mega music festivals. The Ultra Festival is one of electronic music's biggest annual parties, while the Miami Classical Music Festival introduces new generations of classical musicians.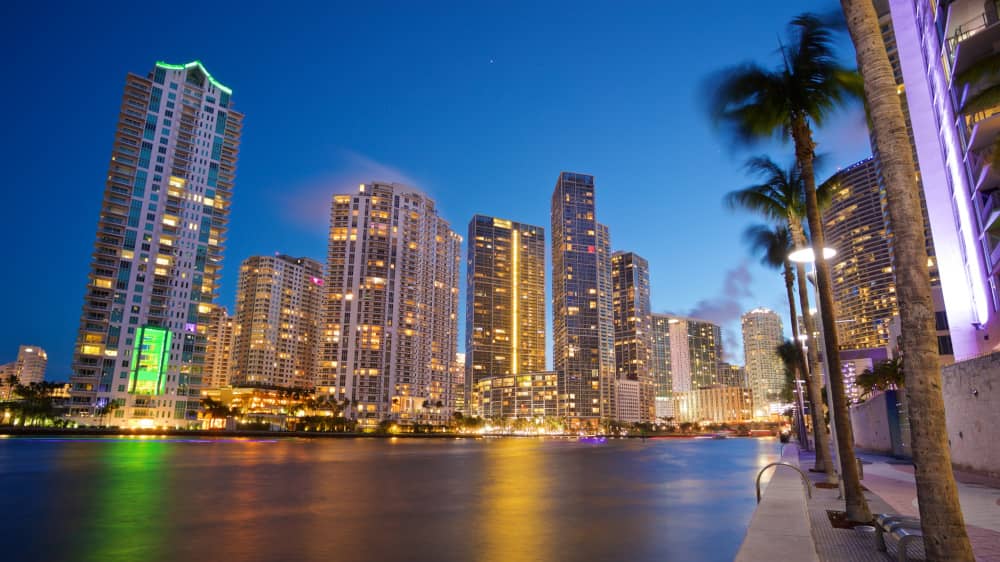 From Chess Records' blistering blues and Lollapalooza's punky parties, to Kanye's revolutionary rhymes and the South Side's swinging jazz clubs, Chicago's place in music history is legendary. The Green Mill is one of the country's oldest continuously running jazz clubs, and its warm vibes, fedora-doffed patrons, and vintage atmosphere make it the perfect place to enjoy a cocktail in Al Capone's former booth. Schubas Tavern, meanwhile, is a favorite of indie scenesters and Americana fans who flock to see where The Handsome Family recorded their acclaimed live album.
For 4 days every June, the population of Manchester increases 8 fold, as 80,000 music fans descend on a 700-acre farm for the Bonnaroo Festival, an epic event that's grown to be one of the music world's most important dates. Not only is the heralded festival a great chance to see world-class bands and comedians, there's also a silent disco, a cinema, a giant slip-n-slide, and a Ferris wheel. Best of all, the green-minded festival is focused on sustainability and contributes to a multitude of charities.
From dancing in the desert to crashing Coachella, the summer offers plenty of opportunities for music fans. Book your next great summer music destination today!