2-Day Arita Ware Tour with Kaiseki Lunch & Private Lesson
By Voyagin
Price was undefined, price is now $1,110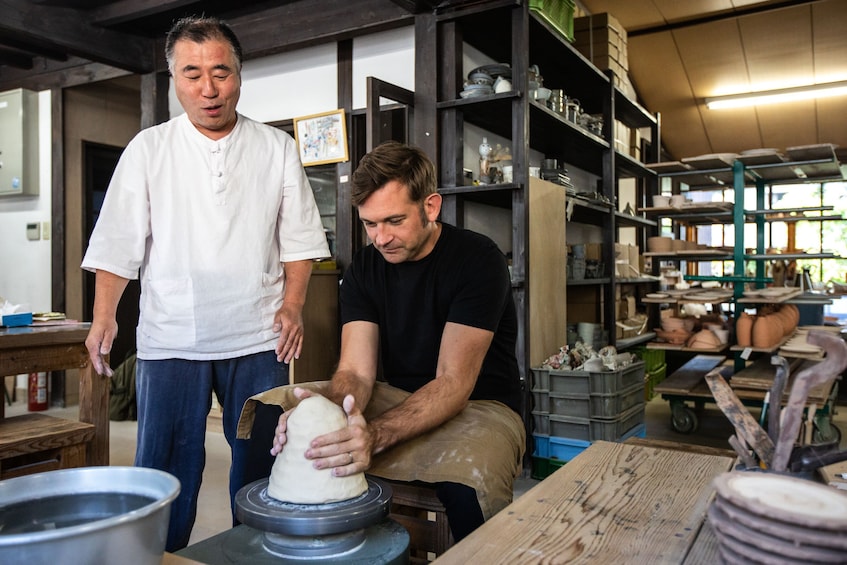 Free cancellation available
Visit some of Arita's most significant kilns

Familiarize yourself with Arita's history and traditions

Get in-depth knowledge from a descendant of Yi Sam-pyeong

Feast on an exquisite kaiseki lunch prepared by a local chef

Stay at the elegant Arita Huis hotel, situated in Arita Cera
About this activity
What's included, what's not
Admission to facilities on the itinerary

Welcome drink and six-course fine-dining kaiseki lunch on day 1

English-speaking guide

Lunch on day 2

Taxi transportation from Kyushu Ceramic Museum to Izumiyama

1 night stay in a Flat Twin or Maisonette Twin room in Arita Huis

Breakfast on day 2

Other taxi transportation not specified above (Depend on the option you chose)

Dinner on day 1
The activity is open to guests aged 7 or older

Children aged 0–6 may accompany guests for free, but will not be served lunch at Yasuna on day 1. Please let us know if there are children 3-6 years old in your group.

About the kaiseki lunch activity: This activity does not include taxi transportation; if you wish to arrange taxi transportation, please select the option with taxi transportation.

About the private tour with a lesson from a master potter: If you wish to keep your work from the pottery lesson, shipping will take two months (extra fees required; please pay on-site)

About the private tour with a lesson from a master potter: Taxi transportation is included only for the section from Kyushu Ceramic Museum to Izumiyama. If you wish to arrange for taxi transportation throughout the tour, please select the option with taxi transportation.

About Arita Huis: The room will be either a Flat Twin or Maisonette Twin. The amenities include bath towel, face towel, toothbrush, pajamas, slippers, razors, hairbrush, hairdryer, shampoo, conditioner, body soap, body lotion, tea, mineral water. Breakfast is included.

[Schedule / Day 1] 11:00 — Meet your guide at Arita Station, 11:10 — Visit the Kyushu Ceramic Museum, 11:40 — Move to Yasuna, 12:00 — Arrive at Yasuna, 13:30 — Walk to Gen-emon Kiln, 13:45 — Tour the Gen-emon Kiln in Kuromuta, 13:50 — Head to the hotel, 15:00 — Hotel Check-in

[Schedule / Day 2] 10:30 — Check out, 10:40 — Move to Izumiyama (taxi transportation included for this section), 10:50 — See Izumiyama Quarry, the large ginkgo tree of Izumiyama, Tonbai Walls, Arita-kan, and Tozan Shrine, 12:30 — Lunch at Arita Porcelain Lab, 13:45 — Move to Imaemon Kiln

[Schedule / Day 2] 14:00 — Visit Imaemon Kiln, 14:40 — Move to Akaeza Studio, 15:00 — Pottery lesson with Yi Sam-pyeong's descendant at Akaeza Studio, 16:00 — Move to Arita Station, 16:15 — Return to Arita Station; end of tour
Arita ware traces its history to the beginning of the Edo period (1603–1867) when the Korean potter Yi Sam-pyeong discovered valuable porcelain clay at Izumiyama. He became known as the father of Arita ware.
The porcelain industry expanded, and Arita ware soon became highly valued, not only in Japan but also in Europe. Early types of Arita ware were known for a distinctive decoration called 'sometsuke' (underglaze blue). Later, bright-colored overglaze and even specific styles emerged.
Today, Arita ware is still the best-known type of Japanese porcelain, highly acclaimed and deeply valued by artists and connoisseurs from Japan and around the world.
After a visit to the Kyushu Ceramic Museum, your guide will take to Yasuna restaurant for an extraordinary kaiseki meal. It will use pieces of Arita ware, representing different styles and time periods — from the Edo period, to the Meiji era, to the present.
Owned by an antiques dealer and collector, Yasuna is a virtual paradise for antique lovers. Countless unique pieces of Arita ware are displayed in the owner's private showroom. After the meal, you'll have time to look at and purchase these rare items.
Accompanying you for the meal is a knowledgeable guide that will explain the tableware used, as well as the Arita ware on display. Relish and savor the cuisine, while appreciating the beauty of Arita porcelain.
After lunch, you will tour Gen-emon Kiln, the maker of some of the unique tableware used during your meal. Enter the studio and see its artisans at work. You will also see the studio's wood-fire kiln which is used only a few times a year on special occasions to conserve wood-firing technology.
You'll spend the night at the elegant Arita Huis hotel, newly opened in 2018 as part of Arita Cera, the largest outdoor shopping center for Arita ware.
On the second day, your guide will introduce you to Arita's historical district of Uchiyama, where you can see the traces of 400 years of porcelain-making at Izumiyama Quarry and the Tonbai Walls. You'll visit craft studios and kilns that are not typically open to the public, including Imaemon Kiln, of which the 13th-generation Imaemon and the current head — the 14th-generation Imaemon — have been designated as Living National Treasures. Finally, you'll get a private lesson on a pottery wheel with the 14th-generation descendant of Yi Sam-pyeong.