First-Time Tandem Skydiving Experience
By Skydive Spaceland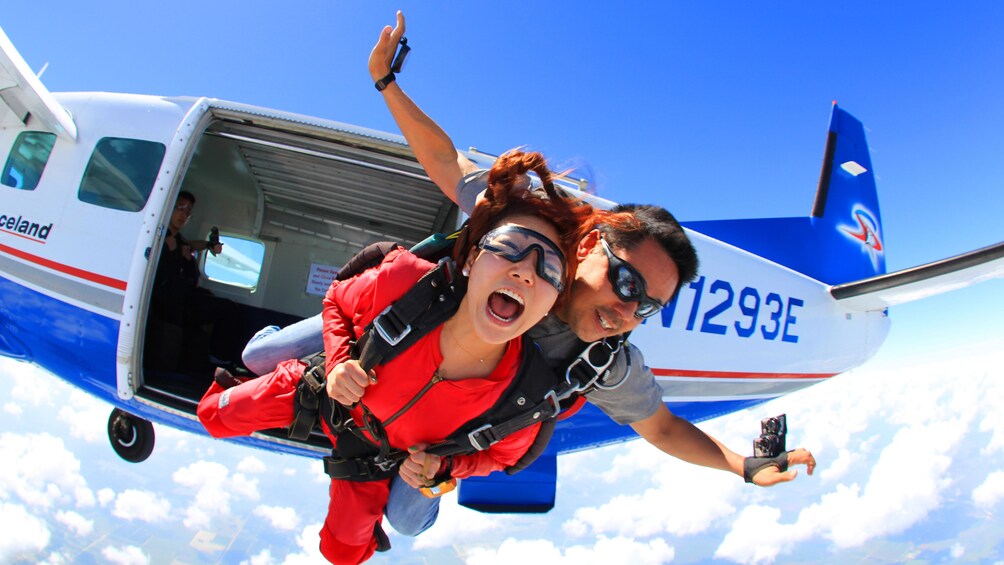 Free cancellation available
Highlights
Exhilarating skydive experience designed for first-timers

Tandem jump that pairs you with a professional skydiver

Chance to free-fall at up to 120 miles per hour (193 km/h)

Stunning views of the horizon & Lake Okeechobee below

Expert instructors to ensure your experience is safe & fun
About this activity
What's included, what's not
Tandem skydiving jump including all instruction and equipment rental

Video/photo package not included, but can be added on site.
Know Before You Book
You must be 18 or older and present a valid photo ID on the day of the activity.

You must weigh less than 265 pounds (127 kg). An additional surcharge of US20 for each passenger weighing 240–265 pounds (108–120 kg) is payable at check-in.

Skydivers over 220 pounds must be evaluated on a case-by-case basis to ensure the skydiving harness will fit safely. Please call us ahead of time at 800-533-6151 if you weigh 220-265 pounds so we can get started on that and answer any other questions you may have.

Maximum group size is 4 people.

You do not need previous skydiving experience.

An additional surcharge of US20 for each passenger who weighs 240–259 pounds (108–117 kg) and US40 for each who weighs 260–280 pounds (118–127 kg) is payable on the day of your activity.

This activity takes place in Clewiston, which is approximately 57 miles (92 km) west of Fort Myers and 73 miles (117 km) east of Palm Beach. You must make your own way to and from the meeting point.

You can check in for your skydive from 9 AM–2:30 PM. After you book your activity, call Skydive Spaceland at 800-533-6151 to schedule a check-in time.
What you can expect
Experience the thrill of a lifetime on this skydiving adventure designed for first-timers. Feel the rush of adrenaline as you jump from a plane soaring at 14,000 feet (4,260 m) above the landscape of southern Florida, all while harnessed to an expert instructor to ensure you land safely back on solid ground.
After you check in at Skydive Spaceland, you're paired with an instructor who gives you a brief orientation on the basics of a first jump. You're then safely outfitted with your skydiving equipment, including a jumpsuit, goggles, harness, and altimeter. Do a brief review of the information you covered in the class before you board the plane.
Feel your heart start to pound as you begin your ascent. Once you reach your cruising altitude, get strapped to your instructor, walk to the edge of the open door, take a deep breath, and then jump. Bask in the bird's-eye view of sparkling Lake Okeechobee and the wind blasting by your face as you free-fall at up to 120 miles per hour (193 km/h).
After about a minute of free-falling through the sky, pull your ripcord for a ride back to ground. Grab the steering toggles to fly your parachute in your choice of 2 ways—the mild ride or the wild ride. Your experience ends with a safe, on-target landing and an item to check off your bucket list.