Nevis Swing - Choose Your Own Style
By AJ Hackett Bungy New Zealand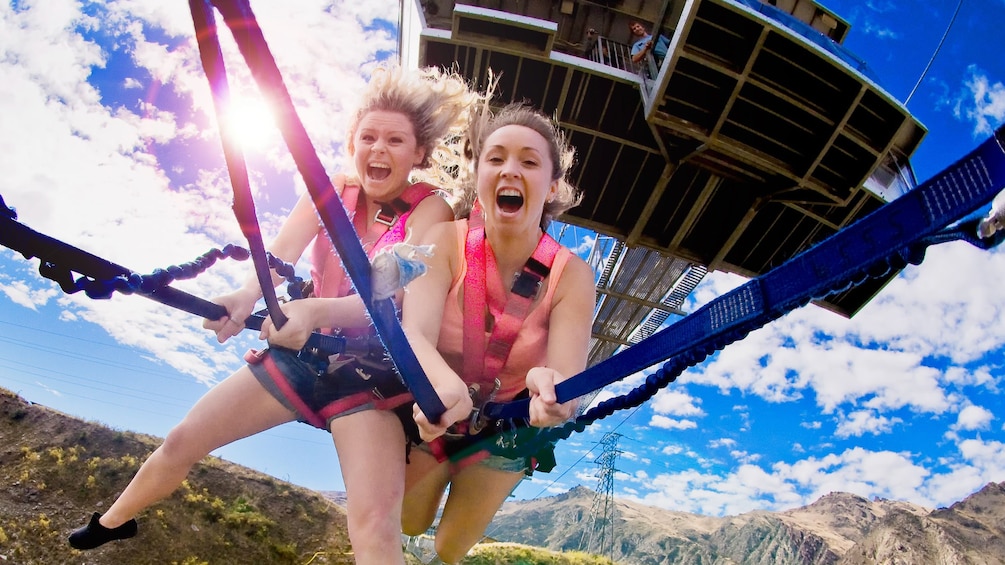 300 METRE ARC (984ft), 70 METRE DROP (229ft)

REACH SPEEDS OF 120KPH (74mph)

FEAR LOVES COMPANY - RIDE IT SOLO OR TANDEM WITH A FRIEND

CHOOSE YOUR RIDE STYLE - FORWARDS, BACKWARDS, UPSIDE-DOWN…

EPIC DROP INTO THE RUGGED NEVIS VALLEY, SCREAMS PERMITTED!
About this activity
What's included, what's not
Nevis Swing

Certificate

Authentic Swing Cap

Return transport from the Queenstown Bungy Centre

Photo and Video packs are optional extras available for purchase after your activity
Trip duration: 4 hours round trip

Location: The Nevis is on private land so our transport must be taken and is available from 'The Station Building', corner of Shotover & Camp Streets in the centre of Queenstown, bookings are essential.

Age: Min 10 yrs (Children 14 and under need to be accompanied by an adult)

Weight: Min 35kg - Max 220kg (78-485lbs)

Medical Conditions: These are a case by case basis so please talk to the AJ Hackett team if you have a medical condition, pregnant women are unable to Swing (refer to bungy.co.nz/safety for more information)

Tandem Swing: Tandem price requires a minimum of two people booking together, maximum combined weight is 220kg and there must not be a 40kg (88lbs) weight difference between the two people.

Spectators: Spectator charge of NZD50 per person bookings essential
COVID-19 UPDATE - Please note that this activity is closed as of 24 March 2020 until further notice. We expect this to be for a minimum of four weeks.
High above the Nevis River, eye-watering speeds and unnerving heights await you. Choose your ride position and get ready for the thrill of a lifetime as you soar above the dramatic landscape of this rugged & windswept region.
Head out of Queenstown and into the rocky landscape of the Nevis River valley. Arrive on site and gaze up at the platform before you. Our crew with run through a short safety briefing with you, before you choose your ride style - forward, backward, upside-down, solo, or even tandem.
Safely secured in your harness, get into position at the release point, high above the valley floor. This is a superb vantage point for views of the valley and river; so open your eyes if you dare. The swing is let go and you accelerate to speeds of up to 75 miles per hour (120 km/h). The Nevis Swing is a must-do for anyone who is a serious adrenaline junkie.
REMEMBER WHEN YOU THOUGHT YOU COULDN'T DO IT. WHEN YOU WERE TOO NERVOUS, TOO TIMID, TOO SCARED. THIS WAS NOT FOR YOU. YOU WANTED TO BACK OUT. BUT YOU DIDN'T. YOU TOOK A DEEP BREATH AND STEPPED FORWARD. BECAUSE IF YOU CAN DO THIS, YOU CAN DO ANYTHING.
LIVE MORE. FEAR LESS