Paper goldfish lantern making experience
By ANA Sales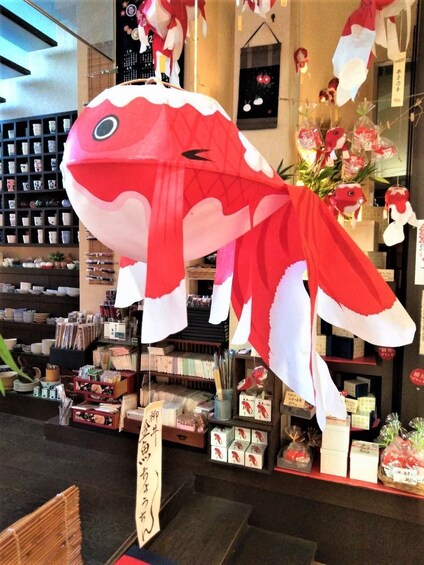 Highlights
Making your own Goldfish Lantern.

Learning how to make by watching an instructional video.

A tour of our sweets factory.

Your choice of refreshment (Matcha tea or Soft drink)

Starts at 10AM or 2PM Monday through Friday.*Duration: 90min
About this activity
What's included, what's not
Making your own Goldfish Lantern.

A tour of our sweets factory.

Your choice of refreshment (Matcha tea or Soft drink)

Gift box to take your lantern home in.

Transportation fee to the meeting place
Know Before You Book
This workshop involves working with small pieces and painting small details. Please bring your glasses if you need them.
What you can expect
Goldfish lanterns are literally goldfish-shaped paper lanterns, and the art of making them by hand is a traditional folk craft which has been passed on for many generations since the Edo period. Now they have become popular and known across the country as a symbol of Yanai City. The story that has been passed down is that 150 years ago, at the end of Samurai era, prosperous merchants in Yanai City made this unique lantern with paper, bamboo, and dyes used for making traditional local fabrics. In those days, the lantern was primarily used for welcoming someone, but now they are displayed at many places throughout the city to entertain people. In the summer, the whole city including "white-walled street" area is filled with Goldfish lanterns and there is a festival held every year on August 13th. The Yanai Goldfish Lantern Festival is held near Yanai Station and attracts people from all over. This festival is an exciting one with large Goldfish floats being carried down the street by groups of men and women.
This workshop gives you a unique experience of coloring, putting fins and tail on lanterns. Please take this great opportunity to make traditional folk craft in Yanai.