By Chloe Mulliner, on October 12, 2017
15 of the most beautiful college campuses
There are countless colleges with beautiful campuses, but there is more to beauty than pretty skylines and stunning architecture. Sometimes, beauty is cheering on your school team until your throat is raw, giving back to the community at the local soup kitchen, and finding a cozy coffee spot away from the masses. Your college days are a beautiful time in your life, and there are so many ways to find those picturesque moments.
As fall marks a new school year, we found ourselves reminiscing on our college days and what made those four years so special. Beyond the obvious academic element of attending college, exploring a new city or town is both exciting and nerve wracking—something that also makes travel so alluring.
---
Check out our student travel deals
---
In addition to the excitement of a fresh, new setting, we determined five categories that add a sense of beauty to the college experience, some of which includes those eye-pleasing elements, but also abstract factors that are more about feeling than seeing the beauty.
Of course, there are thousands of pretty and scenic campuses across the nation, but these are 15 beautiful schools (in no particular order) that made us want to stake a spot on the quad…and maybe even hit the library.
Rating categories:
🌲 Scenery: How pretty is the campus?
Example factors: architecture, natural scenery, manicured landscapes, etc.
🏆 Beyond the books: How extensive is the extra-curricular scene?
Example factors: sports, clubs, publications, organizations, championships, etc.
📣 School spirit: How loud and proud is the student body?
Example factors: game attendance/interest, sense of community, school pride, etc.
🤝 Community outreach: How engaged is the school with the wider community?
Example factors: service organizations, community-based learning, volunteer awards, etc.
👏 Local vibes: How interested are students in exploring outside of campus?
Example factors: restaurants, nightlife, nature, art and culture, etc.
New Orleans, LA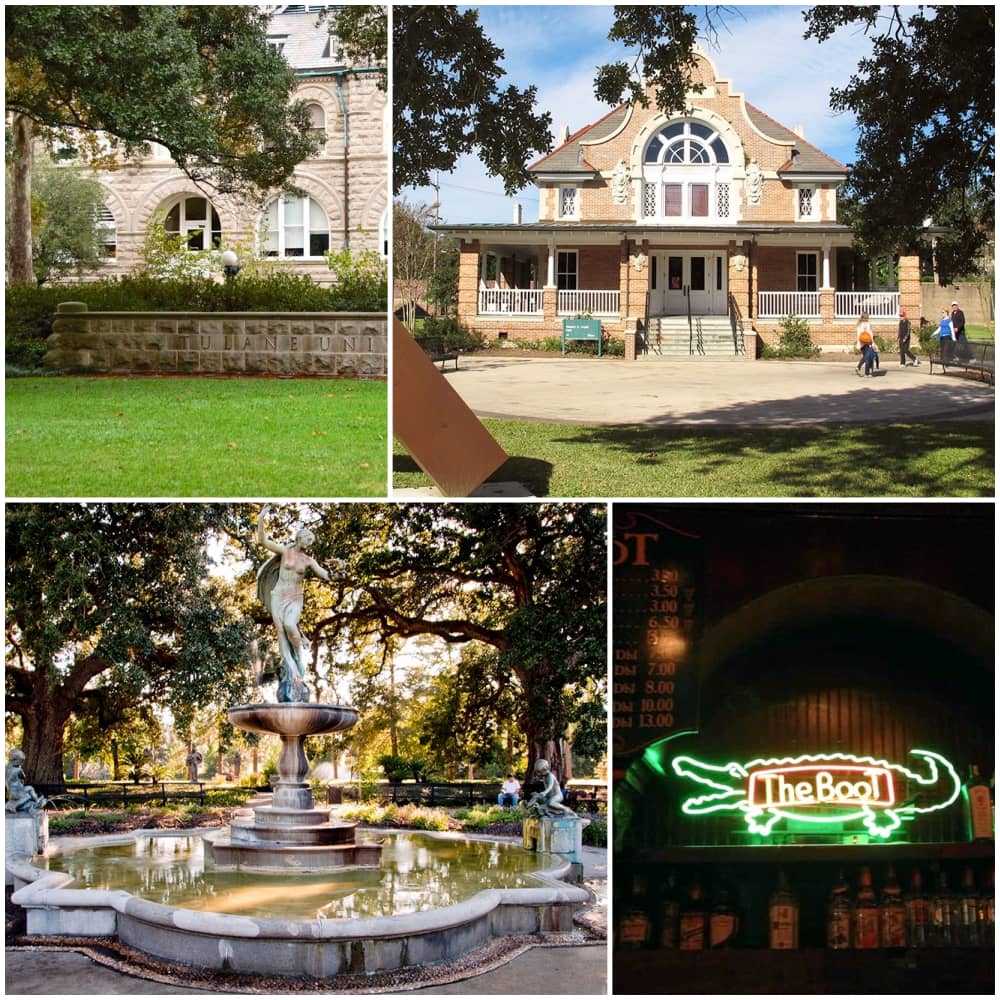 ---
Scenery: 🌲 🌲 🌲 🌲 🌲
Beyond the books: 🏆 🏆 🏆 🏆
School spirit: 📣 📣 📣
Community outreach: 🤝 🤝 🤝 🤝
Local vibes: 👏 👏 👏 👏 👏
---
Tulane University's idyllic campus sits along St. Charles Avenue, just across the way from Audubon Park. Live oaks dot the pristine grounds, while various architectural designs—from Elizabethan to Italian Renaissance—adorn the buildings, earning the campus a spot on the National Register of Historic Places. Even the study areas are scenic, including the skyline views of downtown from the sixth floor of the Howie T. library and the outdoor space at Cassett Courtyard next to Jones Hall.
Students don't just stick to campus though. Tulane was the first private research university to require community engagement as part of the curriculum, so there are strong ties to the city. Beyond the community service aspect, it doesn't take much to entice students to explore what NOLA has to offer. Of course, nearby Bourbon Street is on everyone's radar, but hotspots closer to campus, like TJ Quills and The Boot draw the college crowd, too.
Springfield College
Springfield, MA

---
Scenery: 🌲 🌲 🌲 🌲
Beyond the books: 🏆 🏆 🏆 🏆
School spirit: 📣 📣 📣
Community outreach: 🤝 🤝 🤝 🤝 🤝
Local vibes: 👏 👏 👏
---
Giving back is a beautiful thing, and Springfield College wears it well. Not only was this Massachusetts school the most recent Presidential Award Winner of the President's Higher Education Community Service Honor Roll, but its students clock more than 120,000 hours of community service each year. To further encourage and facilitate community outreach, the college recently opened the Center for Leadership and Civic Engagement.
Another picture-perfect aspect of Springfield College is its prime location along the shores of Lake Massasoit. The lakefront Main Campus and thick forest found on East Campus offer peaceful respite from late-night cram sessions and midterm meltdowns. For a change of scenery, students venture out into the city of Springfield, where attractions like the Naismith Memorial Basketball Hall of Fame and CityStage & Symphony Hall are calling.
Bennington, VT

---
Scenery: 🌲 🌲 🌲 🌲 🌲
Beyond the books: 🏆 🏆 🏆 🏆
School spirit: 📣 📣 📣
Community outreach: 🤝 🤝 🤝 🤝
Local vibes: 👏 👏 👏
---
It's not easy to decide when Bennington College looks the most breathtaking. The lush rolling landscape turns a vibrant shade of green in the warmer months, while snowflakes artfully stick to the campus trees come winter. In cahoots with Mother Nature, the architecture wows, too, as it blends a variety of styles from modern to traditional. (Look out for the Commons building's new makeover!) Within the college walls, you'll find further reason to consider the school attractive—it won the 2017 Energy Leadership Award, hosts the annual Sunfest, and circulates Silo, a student-run arts magazine.
Beauty extends into the local Bennington community, which is rather small, but inviting. Harvest Brewing on South Street serves up Vermont beers and art installations, while the nearby Long Trail—the state's oldest hiking trail—is especially pretty when the leaves start to turn.
Harrisonburg, VA

---
Scenery: 🌲 🌲 🌲 🌲 🌲
Beyond the books: 🏆 🏆 🏆 🏆
School spirit: 📣 📣 📣 📣 📣
Community outreach: 🤝 🤝 🤝 🤝
Local vibes: 👏 👏 👏
---
Any parent touring campus will fall for James Madison's charm: the bluestone buildings, Wilson Hall's bell tower, and the grassy quad filled with Frisbee-throwing students. But a different kind of beauty captures the attention of prospective students: the sense of community. "Come to JMU!" friendly students shout to future freshmen. Somehow, on a campus of 21,000+ students, there are no strangers. This sense of belonging is only strengthened by the fact that the entire student body really does bleed purple and gold, living up to their fight song lyrics, "Wear your colors proud and true."
Beyond the JMU bubble—filled with its award-winning newspaper, The Breeze, and 2016 FCS National Championship football team—Harrisonburg is an inviting community. Though small, downtown attracts students with favorites like Little Grill Collective and the Artful Dodger, café by day and martini bar by night. With the romantic Blue Ridge Mountains surrounding the region, it's no wonder students linger and voluntarily take that fifth-year lap.
Malibu, CA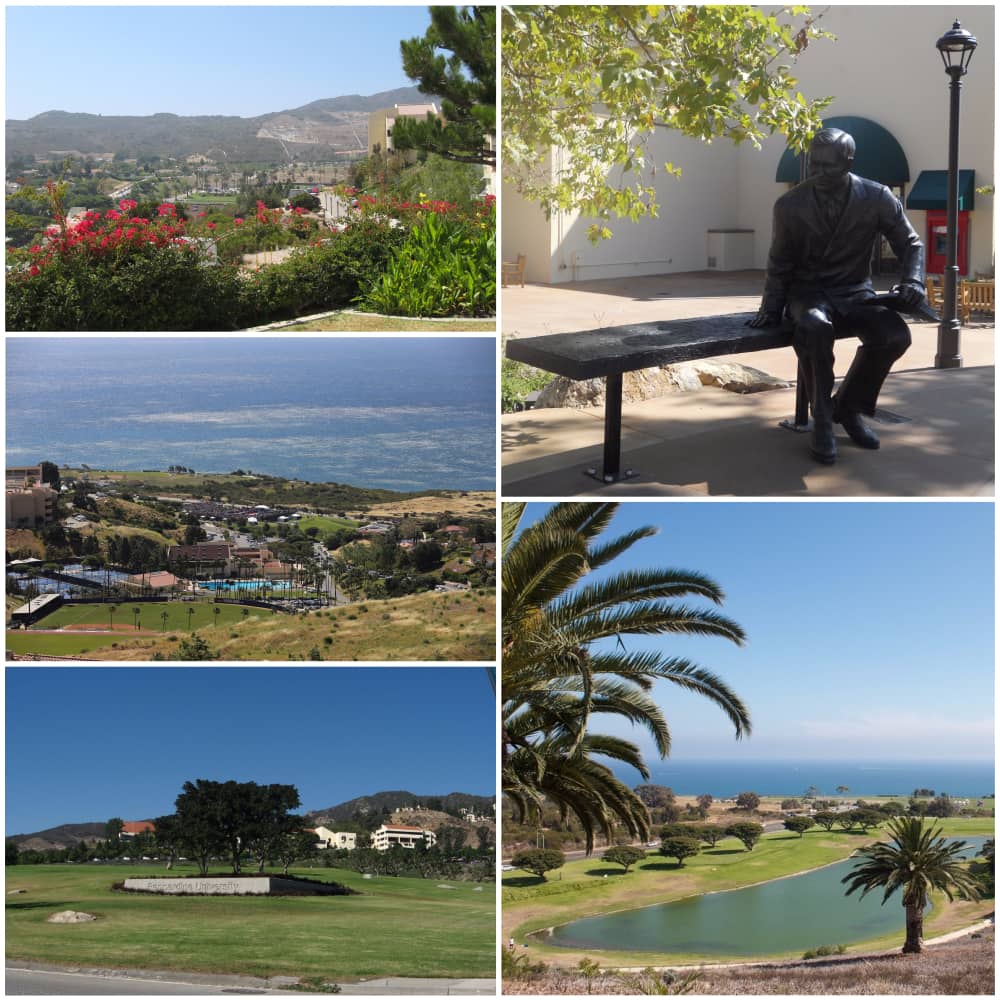 ---
Scenery: 🌲 🌲 🌲 🌲 🌲
Beyond the books: 🏆 🏆 🏆 🏆
School spirit: 📣 📣 📣
Community outreach: 🤝 🤝 🤝
Local vibes: 👏 👏 👏 👏
---
Perhaps the only drawback of attending school along the coastline is that you'll find yourself daydreaming about surf sessions and sunset picnics during Math 104. Pepperdine University sits on an 830-acre slice of Malibu overlooking the Pacific Ocean, a place that looks more like a beach resort than a private university. Despite the stunningly distracting scenery, Pepperdine students manage to pack their schedules with extracurricular activities on campus, from joining one of the 17 NCAA Division 1 athletic teams to publishing in the student-run newspaper Graphic.
While some are surprised that off-campus Malibu is a little sleepier than most college towns, you can't argue with an after-class dip in the sea. A short cruise on the legendary Pacific Coast Highway leads students to Topanga State Beach, Malibu Lagoon State Beach, and even Zuma Beach. Before heading back to campus, a stop at Malibu Yogurt & Ice Cream is an absolute must.
Ithaca, NY

---
Scenery: 🌲 🌲 🌲 🌲 🌲
Beyond the books: 🏆 🏆 🏆 🏆 🏆
School spirit: 📣 📣 📣
Community outreach: 🤝 🤝 🤝
Local vibes: 👏 👏 👏
---
Cornell University isn't just brains, but beauty, too. Overlooking Cayuga Lake, this Ivy League school on a hill is the ultimate showstopper, from its whimsical book collection in Uris Library to the high Victorian gothic architecture of A.D. White House. And the Arts Quad? It's especially stunning on an autumn day when the leaves burst with golden hues.
The surrounding Ithaca area is just as striking, albeit small and rather rural. When students aren't contributing to The Cornell Daily Sun, taking part in one of the 900+ student organizations, or finding community opportunities at the Cornell Public Service Center, they might be found strolling around nearby Collegetown. Open mic nights at The Nines and breakfast at Collegetown Bagels are ever-popular hangouts.
Athens, OH

---
Scenery: 🌲 🌲 🌲 🌲 🌲
Beyond the books: 🏆 🏆 🏆 🏆
School spirit: 📣 📣 📣
Community outreach: 🤝 🤝 🤝 🤝
Local vibes: 👏 👏 👏 👏
---
There is something simple, yet striking about the architecture at Ohio University, where red brick facades are accented by white trimming. The buildings surrounding College Green, such as Cutler Hall and McGuffey Hall, have remained practically untouched for more than 200 years, adding a sense of historical allure to the already pristine university grounds. Other eye-catching elements shine brightly on campus, from the incredible stage performances at The College of Fine Arts (considered one of the country's finest theater programs), to their strong community involvement.
Students are attracted to the scene outside of college campus life, too, as picture-perfect Strouds Run State Park offers a welcome escape away from the library walls. And come Friday night when it's time to close the books for the day, there is a vibrant nightlife waiting just around the corner on Court Street and beyond.
Salisbury, MD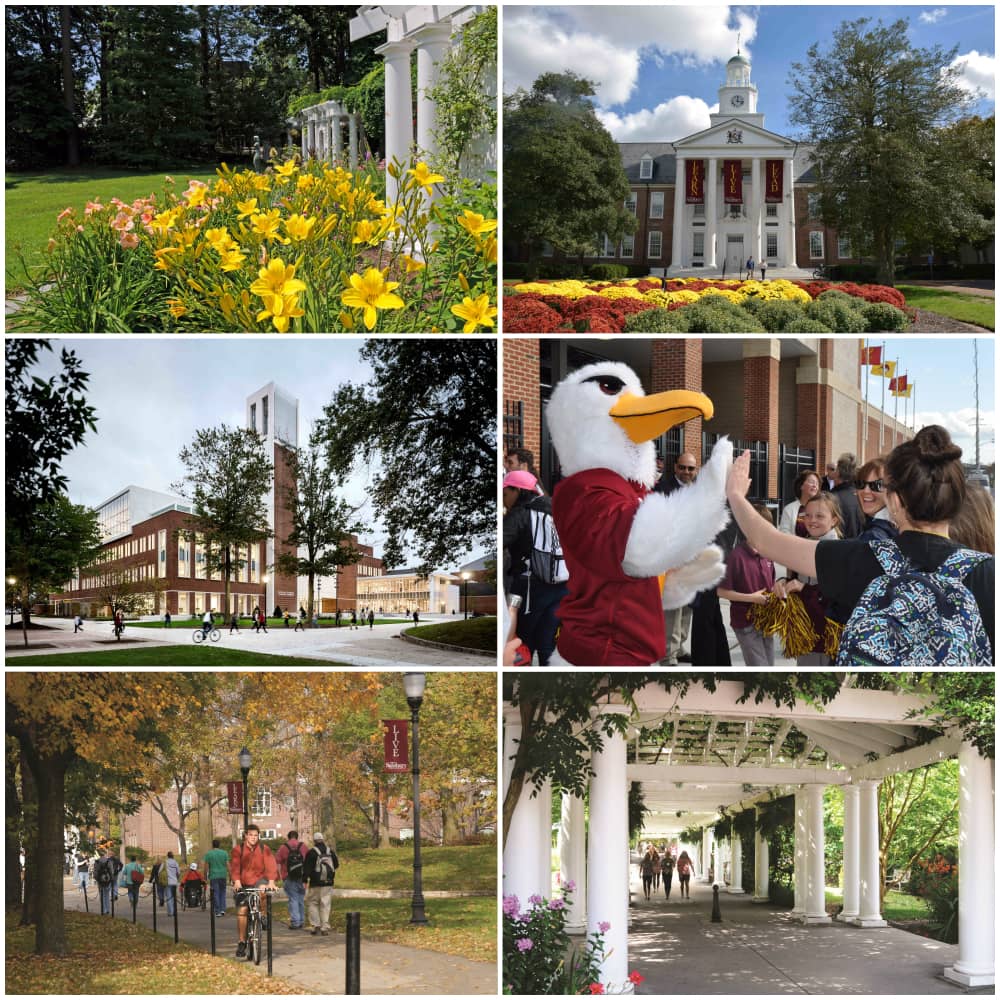 ---
Scenery: 🌲 🌲 🌲 🌲
Beyond the books: 🏆 🏆 🏆 🏆 🏆
School spirit: 📣 📣 📣 📣
Community outreach: 🤝 🤝 🤝 🤝
Local vibes: 👏 👏 👏
---
The best study breaks at SU involve a peaceful stroll through the campus' immaculate green lawns and brick buildings—only interrupted by the realization that it's LAX game day! There is certainly elegance and beauty to be found in the school's lacrosse teams, which have earned quite the championship record—that is, national championships for seven years running. And you better believe The Flyer is reporting on it!
As the heart of Delmarva (Delaware, Maryland, and Virginia) peninsula and Capital of the Eastern Shore, Salisbury plays host to the scenic public university. Plaza Tapatia and Brew River Restaurant are the students' off-campus stomping grounds, but those willing to venture a little farther will find the warm sand and rolling waves of Ocean City. The nearby beach town is just a 30-minute trip east, where the ultimate study spot is under an umbrella with a view of the Atlantic Ocean.
Sacramento State
Sacramento, CA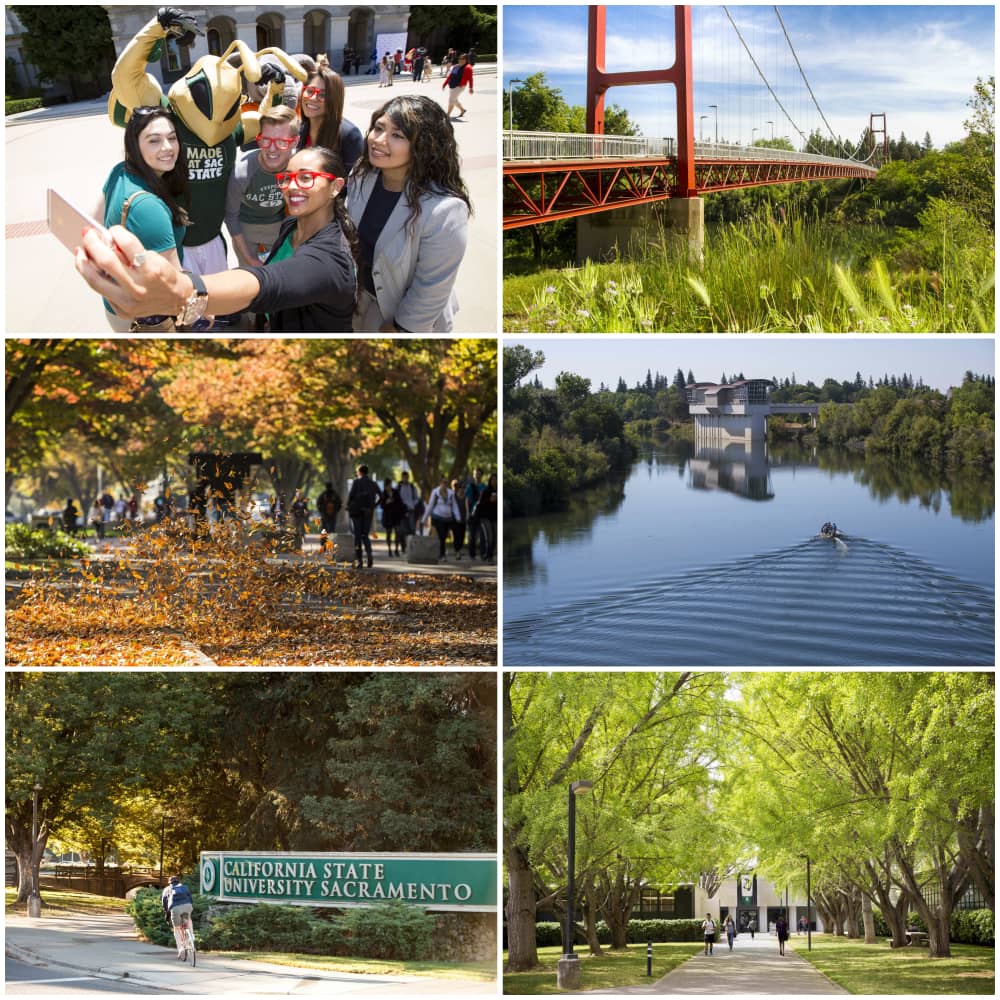 ---
Scenery: 🌲 🌲 🌲 🌲 🌲
Beyond the books: 🏆 🏆 🏆 🏆
School spirit: 📣 📣 📣
Community outreach: 🤝 🤝 🤝
Local vibes: 👏 👏 👏 👏
---
At Sacramento State, thick tree canopies create colorful tunnels across campus, and when the season starts to change, rich crunchy leaves blanket the pathways. With a 3,500-tree urban forest spread across the school grounds, it's no wonder Sac State has received Tree Campus USA recognition—and don't get us started on the University Arboretum's conifer collection. Adding to the allure of the campus, the school has won 34 Big Sky Conference Championships since 2006, has its very own KSSU radio station, and The State Hornet reports on all the latest and greatest.
Outside of the woodland paradise along the American River, students find themselves in the heart of California's state capital. After studying hard, East Sac and Midtown are the places to play harder. Offering awesome meals and an even better nightlife, there are tons of places to help you temporarily forget about next week's chem test.
Rome, GA

---
Scenery: 🌲 🌲 🌲 🌲 🌲
Beyond the books: 🏆 🏆 🏆 🏆
School spirit: 📣 📣 📣
Community outreach: 🤝 🤝 🤝 🤝
Local vibes: 👏 👏 👏
---
Berry College may have a small student population, but its campus is sprawling. We're talking 27,000 acres; the largest contiguous campus in the world. With serene woodlands and meadows, the school is home to more deer than students (some say the ratio is as high as 8:1!) along with bald eagles that frequent the aptly named Eagle Lake on the west side of campus. They even raise cattle on campus. When students aren't moseying around the enchanting setting, they're meeting at the Bonner Center for Community Engagement or picking up the latest copy of Campus Carrier.
Beauty trickles beyond the campus limits, as Rome is near 27 parks of its own. Located just an hour from Atlanta, the city is also a short drive from the popular Johns Mountain Trail that serves up legendary views of the Valley and Ridge. In terms of study breaks, students roam over to Broad Street in Downtown Rome, which is Georgia's largest Victorian era district.
Lincoln, NE

---
Scenery: 🌲 🌲 🌲
Beyond the books: 🏆 🏆 🏆 🏆 🏆
School spirit: 📣 📣 📣 📣 📣
Community outreach: 🤝 🤝 🤝 🤝
Local vibes: 👏 👏 👏 👏
---
"Fight on, Huskers, hear Nebraska call!" At the University of Nebraska, school pride is what makes the school so attractive. It's practically a religion, as students worship the D1 football team, which has racked up five national titles. There's more to it than the ol' pigskin though, as students have over 500 clubs and organizations and 22 varsity teams to join, support, or cheer on from the bleachers. Everyone finds a place to belong on this campus, and there is certainly beauty to be found in that.
That strong school spirit has long reigned at the university, as the Lincoln campus is the state's oldest university—look for the former University Library (now part of Architecture Hall), which was built in 1892, and admire the classic brick buildings. When students are wanting to take their red and white beyond school grounds in Lincoln, they venture to the shops and restaurants in the Haymarket District and the Railyard on Canopy Street.
Santa Cruz, CA

---
Scenery: 🌲 🌲 🌲 🌲 🌲
Beyond the books: 🏆 🏆 🏆
School spirit: 📣 📣 📣
Community outreach: 🤝 🤝 🤝 🤝
Local vibes: 👏 👏 👏 👏 👏
---
Whether you're looking up to the sky or out into the distance, the University of California, Santa Cruz offers a medley of incredible views. Shady redwoods tower over the northern side of campus and rolling green meadows cover the southern side, as the Pacific Ocean sparkles in the background. Only adding to the gorgeous scenic appeal, the open-air Quarry Amphitheater, which is carved from a limestone quarry, is set to open its doors this month, much to the anticipation of the student body.
A tour of campus easily feels like a nature excursion, but the good vibes don't stop when you leave the world of academia. Santa Cruz is a small, but vibrant coastal city, where students get their kicks hopping on the dizzying rides at Santa Cruz Beach Boardwalk, hiking the trails at Wilder Ranch State Park, and catching outdoor performances at The Grove at DeLaveaga Park.
Seattle, WA

---
Scenery: 🌲 🌲 🌲 🌲
Beyond the books: 🏆 🏆 🏆 🏆
School spirit: 📣 📣 📣 📣 📣
Community outreach: 🤝 🤝 🤝 🤝
Local vibes: 👏 👏 👏 👏 👏
---
It's hard to pinpoint what makes UW so beautiful. Some might say it's the Quad's annual cherry blossom blooms, while others may argue it's the impressive Harry Potter-esque Suzzallo Library. It could be the raging Husky pride that pulsates through the student body, or the picturesque mountain range backdrop. However you define beauty, you'll find glimpses of it all over campus: Open a page of the award-winning newspaper The Daily, stand in Husky Stadium during a football game, and admire the views of Lake Washington.
If students can tear themselves away from campus, the University District of Seattle awaits. Just beyond the university borders, The Ave (University Way) is home to eclectic shops, awesome eats, and funky vibes—perfect for the college student lifestyle. Not to mention, merely living in Seattle means every weekend is an adventure.
Rhodes College
Memphis, TN

---
Scenery: 🌲 🌲 🌲 🌲
Beyond the books: 🏆 🏆 🏆
School spirit: 📣 📣 📣
Community outreach: 🤝 🤝 🤝 🤝
Local vibes: 👏 👏 👏 👏 👏
---
When you hear a campus was designed after an English gothic village, you know you're in for a treat. Rhodes College doesn't disappoint with its quaint 100-acre campus, filled with regal stone buildings—a number of which are on the National Register of Historic Places. One area of campus that especially shines is the double row of white oak trees, called Rollow Avenue of Oaks, that leads to Palmer Hall. Another beautiful aspect of this school? More than 80 percent of the student body gives back to the local community.
Sitting across from Overton Park, just five miles northwest of downtown Memphis, the school has a lot to keep the students busy on and off campus. Café Eclectic in Midtown is a favorite stop for a much-needed caffeine boost, while Cooper Young District offers stops like Java Cabana Coffee House.
Northfield, MN

---
Scenery: 🌲 🌲 🌲 🌲 🌲
Beyond the books: 🏆 🏆 🏆
School spirit: 📣 📣 📣 📣 📣
Community outreach: 🤝 🤝 🤝
Local vibes: 👏 👏 👏
---
Often referred to as The Hill, St. Olaf College is set on a 300-acre campus. The gothic architecture, particularly seen on Old Main and Holland Hall, almost makes students feel as though they've been transported to a European village, spires and all. When autumn arrives, it casts dazzling golden shades across the grounds, and with the first snow fall, the campus turns into a magical winter wonderland.
When students temporarily leave campus to explore Downtown Northfield, they remember to wear their school pride proud and loud. After all, the college shares the same ZIP code with Carleton College, upholding a rivalry so embedded in the school culture that it's considered one of college football's oldest rivalries. The Um! Yah! Yah! battle cry just may be the first thing freshmen learn all year.
In your opinion, what college has the best campus?
---
[one_half]
Photo Attributions:
Tulane
Top Left: Yelp/Glen G.
Top Right: Flickr/Ed Bierman
Bottom Left: Flickr/vxla
Bottom Right: Yelp/John L. H.

Springfield
All: Springfield College

Bennington
All: Bennington College

James Madison
All: James Madison University

Pepperdine
Top Left: Flickr/John Beagle
Middle Left: Bradley Griffin
Bottom Left: Flickr/Ken Lund
Top Right: Flickr/Kristina D.C. Hoeppner
Bottom Right: Flickr/Kristina D.C. Hoeppner

Cornell
All: Cornell University

Ohio
All: Ohio University

Salisbury
All: Salisbury University[/one_half]
[one_half_last]
Sacramento
Top Left: Jessica Vernone/California State University Sacramento
Middle Left: Rob Neep/California State University Sacramento
Bottom Left: California State University Sacramento
Top Right: California State University Sacramento
Middle Right: Jessica Vernone/California State University Sacramento
Bottom Right: Jessica Vernone/California State University Sacramento

Berry
Top Right: Berry College
All Others:Brant Sanderlin/Berry College

Nebraska
Bottom Left: Alyssa Mae Ranard/University of Nebraska Lincoln
All Others: Craig Chandler/University of Nebraska Lincoln

Santa Cruz
All: UC Santa Cruz

Washington
Top Left: Katherine B. Turner/University of Washington
Middle Left: Katherine B. Turner/University of Washington
Bottom Left: Dennis Wise/University of Washington
Top Right: Doug Plummer/University of Washington
Bottom Right: Jonathan M. Steinberg

Rhodes
All: Rhodes College

St. Olaf
All: St. Olaf College[/one_half_last]