By Chloe Mulliner, on January 24, 2017
14 of the most romantic US getaways
News flash: Romantic getaways aren't just for when you're celebrating a milestone anniversary or digging yourself out of the doghouse. A vacation for two can do wonders for your relationship, leaving you love birds feeling refreshed, renewed, and most importantly, reconnected.
Sure, there are a lot of cities out there that make good getaways, but then there are the ones that are better than good. They have the it-factor; whether it's their impressive coastal views, charming history, or sense of adventure, the most romantic destinations are undeniably enchanting—and we know exactly where they are.
We called on the expertise of our favorite couple travel bloggers, who have traveled the globe and know just the place for a romantic getaway in the U.S. These travel gurus helped us round up our list, which factored in scenery, romantic activities, and tables for two to ensure that we covered the hottest cities for duos. Check out the following sappy cities with some insight from the travel couples themselves.
The lovely seaside town of Portland is what date nights are made of. A stroll along Old Port's waterfront will lead you to fishing piers, Victorian buildings, and superb seafood eateries. After soaking up the historic coastal scenery, knock back some local brews with your honey. Hit up the taps at Allagash Brewing Company to get your brewery crawl officially started.
Why it's great for couples: "Portland, the biggest city in Maine (but still a very small city by American standards!), is totally gorgeous and charming. Go for a romantic wander through the old cobbled lanes and fishing wharves—there are so many photo opportunities in the quaint downtown area. Portland is well known for having a great food scene, and you can find fantastic eats (and craft beer!) pretty much anywhere." – Petra and Shaun, The Global Couple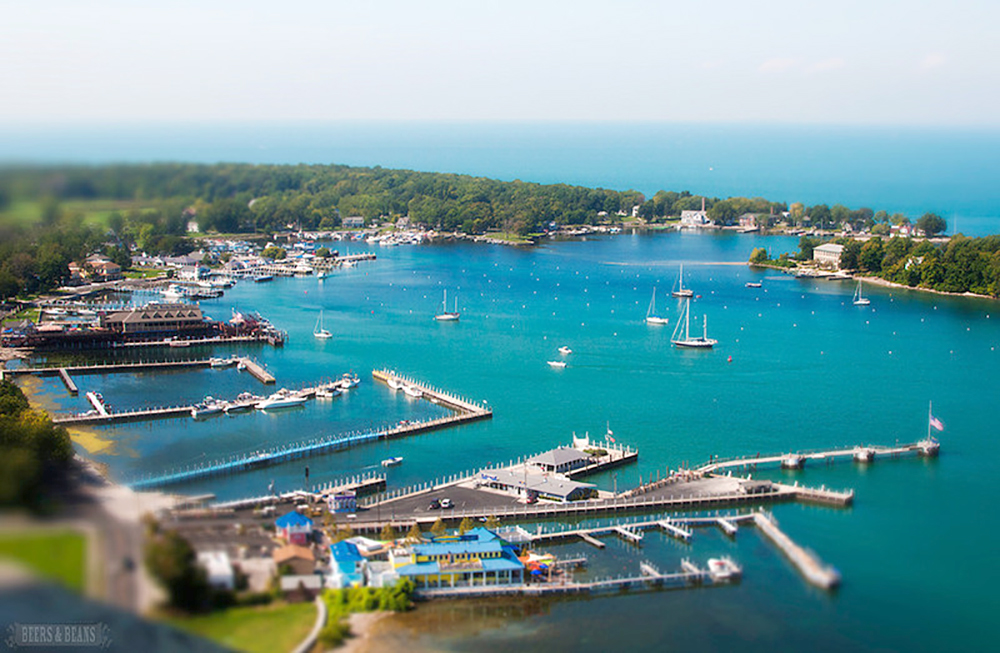 Sandusky offers a lakeside retreat that is ever-so inviting for couples. Meander through the historical streets, make a splash down at Cedar Point Beach, and then take it all up a notch with craft cocktails at Volstead Bar, which rocks the speakeasy vibes. But if you really want to test your love, step up to the Top Thrill Dragster, the second tallest rollercoaster in the nation. Nothing will bring the two of you closer than riding some of the wildest coasters at Cedar Point amusement park.
Why it's great for couples: "Once a thriving Great Lakes harbor town, Sandusky, Ohio, is having a cultural renaissance, making it an ideal destination for couples looking for a laidback getaway… As the days turn warm, the islands off Sandusky take on a life of their own. Hop a ferry to Put-in-Bay, a village on South Bass Island, and see for yourself why the island is known as the Midwest Key West." –Randy and Bethany, Beers & Beans
Chicago has romance written all over it. The hot dog eating, baseball cheering duos spend their days playing in Wrigleyville and hanging out at Guthries Tavern. Meanwhile, spirit sipping couples in search of class find comfort in the speakeasy ambience of RM Champagne Salon and the drop-dead incredible views from the rotating Cite Restaurant. There really is no limit to this city's magic.
Why it's great for couples: A city as cosmopolitan as Chicago has it all, from free, laidback attractions to dazzling luxuries. It's a choose-your-own adventure type of town, where every kind of couple is sure to find their niche.

When you imagine New England, if you picture dollhouse-like homes with wraparound porches and lighthouses dotting the coastline, then you're not far off from what you'll find in the splendid town of Old Saybrook. Hitch a ride with Sea Sprite Sport Fishing to cast some lines and see the town from a different angle, and then take a dip at Harvey's Beach. For old-fashioned date night vibes, share a banana split at James Farmacy Organic Café & Juice Bar.
Why it's great for couples: There's something about the seaside that draws us in, and it's especially romantic when you share it with the one you adore. Old Saybrook is a serene coastal town, where you can spend one day reeling in bluefish and the next hunting down antiques.

An enchanting town, Santa Fe is a cultural crossroads, where the smell of grilled chiles waft through the air and Pueblo pottery catches your eye. Hand in hand, hunt for treasures at the countless art galleries and studios along Canyon Road and downtown. After an art crawl around the city, slip into the hidden garden of La Casa Sena for a magical meal of traditional enchiladas and fresh-squeezed margaritas.
Why it's great for couples: "Looking for old world romance without going across the pond? Santa Fe, New Mexico, with hundreds of years of history is the perfect place for a lover's getaway." –Billie and Steve, Santa Fe Travelers
No sunset beach stroll will ever be the same after you explore the shores of Glass Beach. At Fort Bragg in Mendocino County, the shoreline sparkles with millions of pieces of beach glass, making for a magical seaside adventure. Look—but don't take—the artificial pebbles, and then prepare your palates for some Cali vino with stops along Highway 128 Wine Road. Indulge in the pinots and syrahs at the family-run Drew Wines, and then sample the libations at Philo Ridge Vineyards, a wind and solar-powered winery.
Why it's great for couples: "Mendocino is completely unexpected. Being an easy drive away from the Bay Area, it's secluded from the bustle of the city life. It's a quiet, romantic retreat along the Pacific Ocean with breathtaking views. With a focus on the wine culture of Northern California, it makes for great date nights and adventures." –Annie and Justin, Montgomery Fest
If your sense of adventure initially drew you together, then allow Girdwood to get you back in touch with your daring ways. This resort town is a playground for outdoor enthusiasts, where you'll kick the adrenaline up a level. Take to the skies with Alpine Air Alaska flightseeing to soar over Lake George Valley, before landing on Colony Glacier, and then spot moose and coyotes at the Alaska Wildlife Conservation Center.
Why it's great for couples: "It's a way to see a part of the U.S. that we never imagined was real. From visiting small rural towns, scouting wildlife like bears and bald eagles, and getting up close and personal with glaciers, Alaska has so much to offer…not to mention some incredible seafood." –Danika and Chris, No Destinations

If you're addicted to the mountains but your partner sways toward the coast, then Grand Marais is the perfect compromise. Sitting where the shores of Lake Superior meet the Superior National Forest, this city invites you to spend a day hiking to Devil's Kettle waterfall in Judge C.R. Magney State Park, and the next skiing at Lutsen Mountains Ski Resort. No matter how you fill your days adventuring, you'll both agree on lunch at Crooked Spoon Café.
Why it's great for couples: Whether you're the type of couple who lives for taking on extreme outdoor adventures or simply sipping espressos with a lakeside view, this fishing village has you covered. Throw in the art galleries, lighthouse, and coastal views, and you've got yourself a romantic retreat.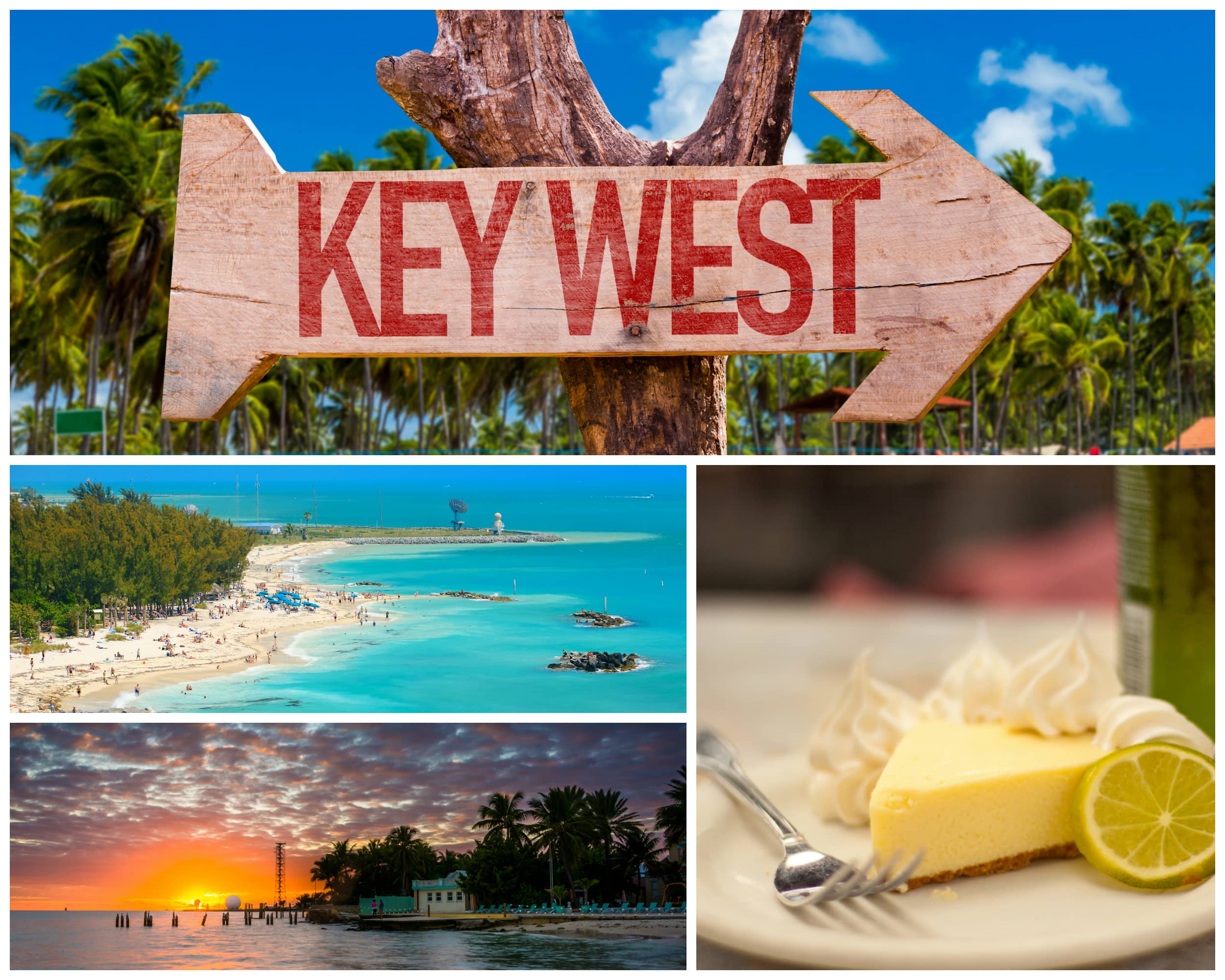 When it comes to the best romantic weekend getaway ideas, you won't want to overlook Key West. A vacation here means epic views of the Gulf, the smell of sunscreen under your nose, and the tarty taste of key lime pie on your lips. With your sweetheart in tow, let the Bike Man hook you up with some tandem wheels so you can cycle around the island, and then set sail on a Key West sunset cruise with Fury Water Adventures. The only way to round out the day is with an ocean view table at Hot Tin Roof.
Why it's great for couples: It's really hard not to get carried away with the romantic appeal of this island city. From magnificent sunsets on the ocean's horizon to snorkeling adventures off the coast, it's the kind of place where you just may find yourself falling in love with each other all over again.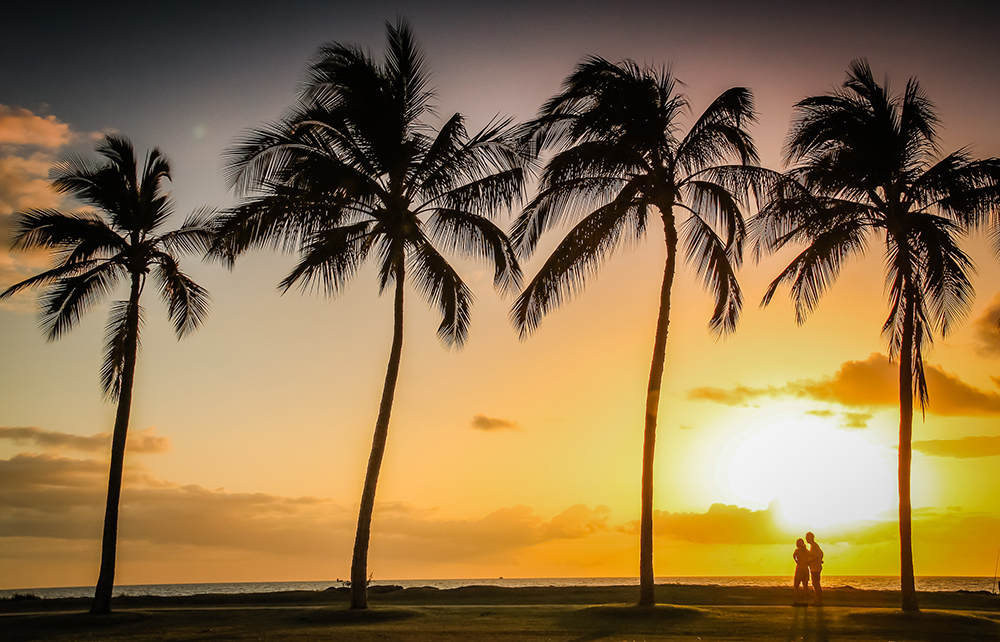 An island getaway? Oh la la. Hawaii is perhaps one of the world's most romantic destinations, and Maui certainly does it justice. Saddle up in a helicopter to see the tropical landscape from above as if you were a set of birds, and then take your time cruising along Hana Road to discover the stories and scenery that comes along with it. A meal at Sarento's on the Beach
is the perfect way to close the day, as the waves lap on the shore just a stone's throw from your table.
Why it's great for couples: "The ultimate in romantic U.S. destinations, Maui provides a tropical getaway without having to use your passport. Once you arrive, your options are endless when it comes to catering to your travel style, but Maui is great for feeding the desires of nature lovers and adventurers." –Lina and David, Divergent Travelers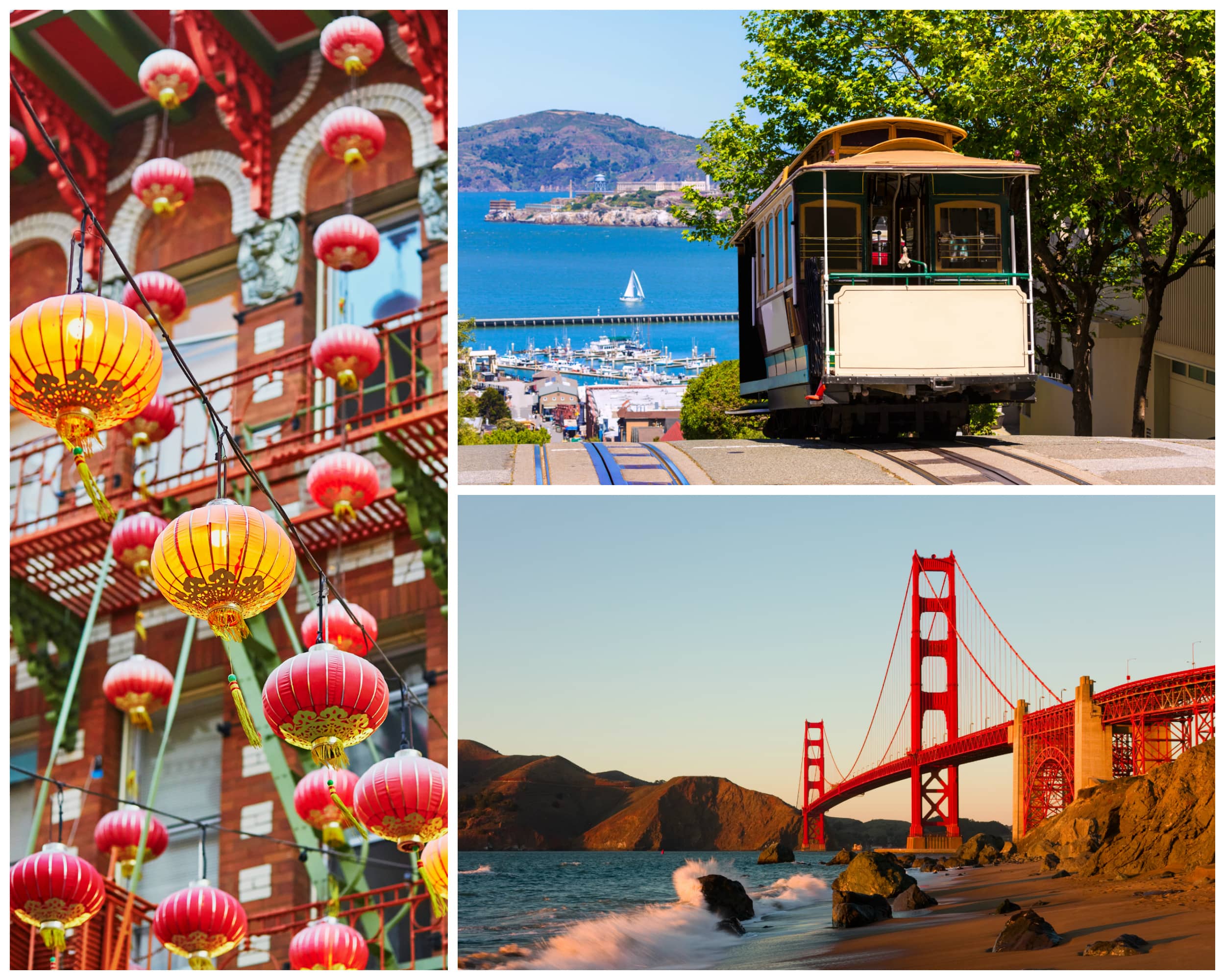 The famous lyrics say, "I left my heart in San Francisco," but that won't be the case when you have your sweetie along for the ride. This spellbinding city invites you to start the day off with the luxurious café au lait and croissants at Café de La Presse, followed by a tour through the Dragon's Gate in Chinatown and the historic Ferry Building. After exploring the hilly city, toast the day's adventures with some lasagna Bolognese and vino at Barbacco Eno Trattoria.
Why it's great for couples: "San Francisco is the perfect handholding, strolling by the water, eating great food, admiring splendid architecture, city for two. Of all the cities in the U.S., this urban oasis is my very favorite location for a couple's adventure!" –Suzanne and Craig, Adventures of Empty Nesters

A quaint colonial town along the Rappahannock River? Folks, it doesn't get much more charming than this. Spend a romantic couples getaway tandem kayaking along the river, antique shopping downtown, and getting tipsy at Hartwood Winery. To earn extra brownie points with your amour, turn in at the elegant Kenmore Inn, built in 1824, for a spectacular night away from home.
Why it's great for couples: Virginia is for lovers, and the town of Fredericksburg is no exception. Calm and quiet, away from the hustle and bustle of D.C., this escape offers a full plate of historical attractions, up-and-coming restaurants, and nature retreats, where couples unwind, relax, and appreciate a slower pace of life.

If palm trees and sea breezes are the must-have elements of a romantic vacation, then Fort Lauderdale will send the sparks flying. A free-spirited day spent splashing in the surf and riding an airboat through Everglades Holiday Park can only be rivaled by a romantic dinner for two. Slow down the pace with an ocean view and coastal cuisine at S3 Restaurant along the seaside.
Why it's great for couples: "Fort Lauderdale is a great place for a short getaway for couples because of its laid-back vibes and easy accessibility as a flight hub. While in Fort Lauderdale, our number one recommendation would be to check out the beach. The main beach is an easy bus ride away from the airport, making it a perfect spot even if you're visiting as part of a stopover." –Lexi and Steve, They Get Around
Cozying up inside sure has its perks, but Anaconda has something else in mind for love birds. There's no staying indoors when it comes to this mountain town, where you'll horseback through ranches by day and cross country ski around Sugarloaf Mountain by moonlight. Only after hiking Mount Haggin and mountain biking along Twin Lakes Road will you earn yourself some leisure time at the charming Hickory House Inn.
Why it's great for couples: The best couples challenge each other and take on crazy adventures together, and Anaconda is the ultimate place to do so. With nature as your playground, this mountainous city will bring you closer together than ever.
What romantic destinations top your list?