By Chloe Mulliner, on October 15, 2018
14 cities that give you the worst case of FOMO
You know that feeling you get when you when you're in the middle of having fun, but get this sinking feeling that you're missing out on something even better? It's like when you're enjoying a delicious meal, only to look across the table and see what your partner ordered, and immediately regret your decision and feel the ultimate food envy.
That paranoid feeling has earned the name FOMO, fear of missing out.
Because we have so many decisions to make, and social media is always there to show us what we missed out on, it's impossible not feel even just an inkling of FOMO every now and then. While we're all about staying true to our decisions and enjoying the moment regardless of where we are, sometimes FOMO is inevitable.
In fact, when it comes to traveling, we found that there are entire cities out there that will give you a case of FOMO. Don't let that scare you away though; a good FOMO flare up simply means there are so many things to do and places to see, that you'll have a hard time choosing between all the epic events and attractions. Too many options has never been a bad thing, especially when you're exploring a new city, so take a peek at our list of FOMO-inducing destinations, and good luck deciding on what to do first!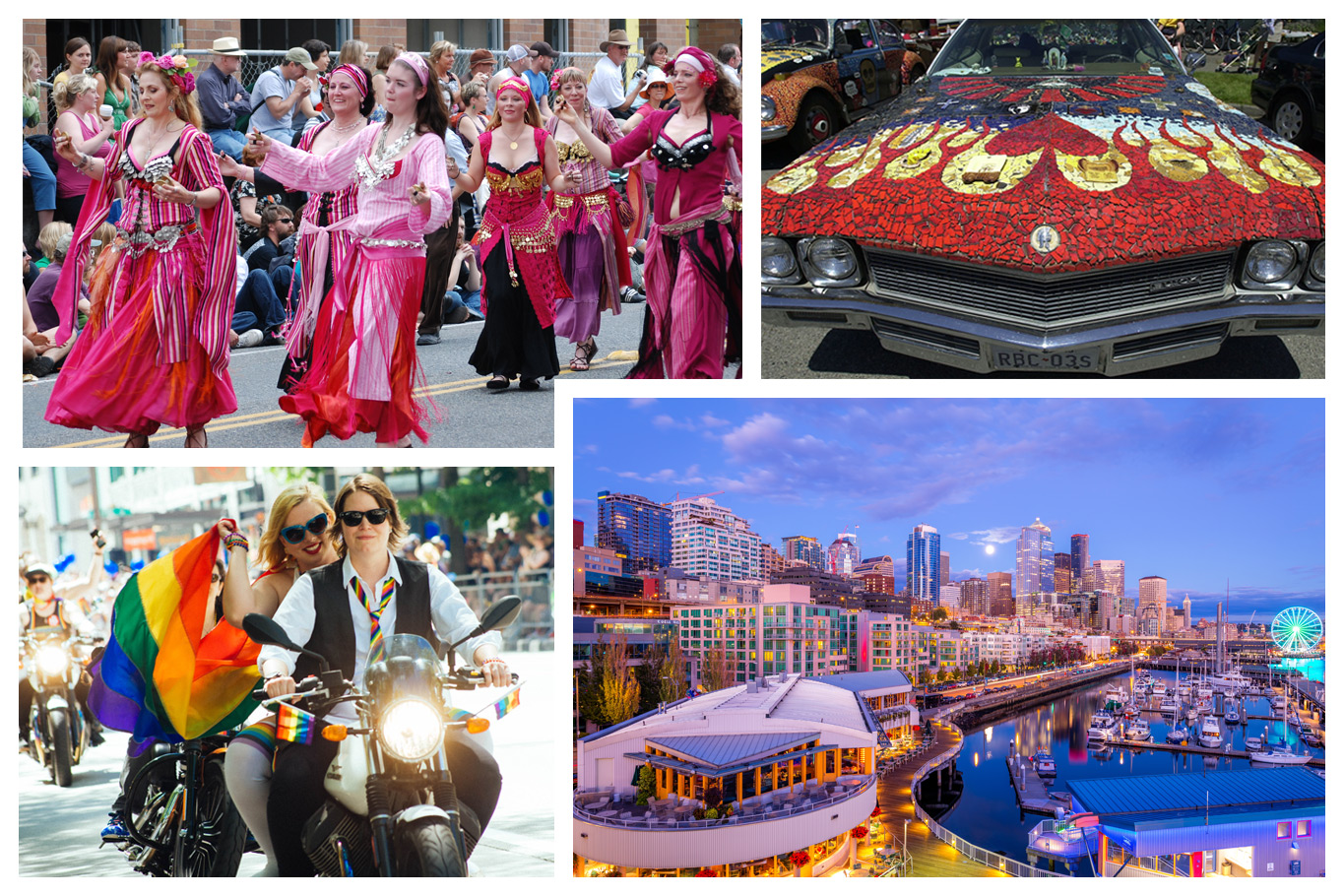 You'll come down with a serious case of FOMO when you arrive in Seattle. "Visitors could choose to travel anywhere, but they come to Seattle because it is a place that inspires and surprises at every turn with its creativity, award-winning culinary scene, welcoming and inclusive community, and captivating scenery," said Ali Daniels, Senior Vice President and CMO at Visit Seattle. "In an increasingly digital world, Seattle has a way of making you feel connected—to the city and to its people—from the moment you arrive."
Take a visit to Seattle during the summer months and see its charisma for yourself. The quirky Fremont Fair shows off the city's flair, with talented buskers, musical acts, dog parades, and the much-anticipated Seattle Art Car Blowout. Meanwhile, the Urban Craft Uprising teases with its creative charm, as it hosts the largest indie craft show in the city. Stay just one weekend longer, and you'll frolic along the streets with fellow rainbow-donned revelers in celebration of Seattle Pride, where love and openness flourish in the heart of the city.
Not so fast though! Don't even thinking about leaving without sinking your teeth into the Seattle Street Food Festival for a meal-on-wheels extravaganza in July. At the same time, Seattle Seafair events span eight weeks throughout the summer, meaning you'll have to cross check your itinerary—but really, you don't want to miss the Milk Carton Derby. Oh, hello, FOMO? Is that you?
Buckle up for springtime in Boston, because it's going to be crazy! Crazy busy, that is. March and April bring with it some of the most legendary events around Boston, which is great, but we're not going lie, it really raises the FOMO stakes. As the temperatures rise, so do the number of events in the state capital—are you ready for it?
If you're ever going to celebrate St. Patrick's Day outside of Ireland, Boston is the place to do it. The city turns a shade of Kelly green come March 17, when all kinds of Irish celebrations hit the streets and venues, from the Celtic Sojourn to the South Boston Parade. Around the same time, the spring session of Dine Out Boston kicks off, further giving you a taste of the city, as participating restaurants serve prix fixe menus.
Then comes April. The Red Sox step up to plate for their first home game at Fenway Park at the beginning of the month; something fans have marked on their calendars and bought tickets for months in advance. The Sox also play a home game every Patriots' Day. Off the field, the historical anniversary of the Lexington and Concord Battles is commemorated with re-enactments, a lantern lighting, and a parade. Every year, the Boston Marathon falls on Patriots' Day, too, meaning you may find yourself splitting your time between battle fields, finish lines, and baseball mounds. Is now a good time to mention that ArtWeek rounds out the month, too?
Little Rock knows how to do autumn. With foodie fests and state fairs happening all throughout October, it puts on a good show, meaning it's not going to be easy to prioritize which places to check out first. Some of the best events on the roster will make your belly happy, so pack your stretchy pants, and prepare to chow down!
For the best possible experience in Little Rock, you'll want to bring a healthy appetite. We're talking a huge, foodie affair, with snack-centric festivals, including the Main Street Food Truck Festival, followed by the Arkansas Cornbread Festival, and the Annual World Cheese Dip Championships! You heard that right, contestants will be competing for the Big Dipper title, the first-place cheese dip award. If your taste buds are willing to linger until early November, you can even take a bite out of Chili Fights in the Heights, a chili cook-off and charity event.
There's no chance you'll enter hanger territory, as even the Arkansas State Fair hosts its own fair share of grub. Who doesn't love caramel apples and funnel cake? This 12-day extravaganza presents concerts, livestock shows, carnival rides, and more, making you feel like a kid again. With so many things to do in Little Rock, will you be able to fit it all in?
It won't take long to realize what FOMO stands for when you arrive in New Orleans. NOLA practically never sleeps, which means you won't either if you want to see it all! Take a deep breath and don't get overwhelmed—your experience will be absolutely magical, even if you don't see every alluring attraction and event.
What makes New Orleans one of our most FOMO-inspiring picks? Take its fall event calendar for example. October brings the spooky Krewe of Boo and Voodoo Festival, which are holy grail-worthy events. Not to mention the Treme Fall Fest and the sweet, sweet Beignet Fest take place that month, too. Just around the corner, November brings with it some tasty temptations, from Boudin, Bourbon & Beer to the Oak Street Po-Boy Festival to the Treme Creole Gumbo Fest. And that's not even including all the famous attractions and usual NOLA festivities on any given day.
As for how the locals feel about their FOMO recognition, "This is such a tremendous honor for our great city, especially during our tricentennial year," said Mark Romig, President and CEO of New Orleans Tourism Marketing Corporation. "The honor is truly a testament to the hard-working men and women in our city's hospitality industry that have been providing such an amazing guest experience for tourists and locals alike, indeed for centuries."
Yes, Bloomington wears winter beautifully with its snow-draped scenery, but it's autumn that captures the hearts of visitors and locals alike. September, in particular, is when you'll find yourself wishing you had a body double so you could attend all the Bloomington activities!
This September, the annual Fourth Street Festival and Bloomington GarlicFEST & Community Art Fair competed for attention during Labor Day weekend. Fortunately, your FOMO wouldn't run too wild though, as they set up just two blocks apart, giving you a two-for-one opportunity. Each year, the Fourth Street event features live music and spoken world, while the GarlicFEST presents, well, garlic-infused food, but also cooking contests, music performances, art displays, and more.
The seduction doesn't stop there though; September also sees the Kiwanis Club of South Central Indiana Hot Air Balloon Fest and the Lotus World Music and Arts Festival. In the beginning of the month, colorful, patterned balloons linger along the horizon. At the annual Hot Air Balloon Fest, you can take a tethered balloon ride or admire the Balloon Glow with your feet on solid ground. Meanwhile, the Lotus festival closes out the month with culturally diverse art and music presentations. If you're a local, you just may be able to pack it all in, but if you're visiting, you may always wonder what you missed out on…
Ready for a bad case of FOMO? Hold on tight! In Jacksonville, you'll find yourself pulled in a million different directions when it comes to deciding what to do and when. Relax? Explore? Dine out? Or party? Get ready to mark off all of the above.
"We have 22 miles of beaches, two national parks, 450 city parks, world-class fishing, historic neighborhoods, vibrant street arts scene, creative coastal cuisine, delicious craft beer, exciting sporting events, vibrant nightlife, and so much more," said Michael Corrigan, President and CEO of Visit Jacksonville. "Come to Jacksonville to enjoy one of the top NFL experiences during a Jacksonville Jaguars game … or how about enjoying the best waves in Florida during the Sisters of the Sea Surf Classic? Or come sample all of our award-winning craft beers during the dozens of Oktoberfest celebrations in the city, just to name a few fun events."
Believe it or not, those enticing events are only just kicking off the fall season, with tons of top-notch events on the docket, from WasabiCon to NAS Jax Air Show. And don't think for a second that this coastal city slows down just because high season is over—there's plenty more where that came from to see you through the winter months. Might as well stay for the Light Boat Parade and WinterFEST at Adventure Landing, too, before your FOMO officially sets in.
Not too hot and not too cold, Tucson is the Goldilocks of winter destinations, making January a prime time to explore this dramatically scenic Arizona city. And it's not just the temperatures that make Tucson so appealing during winter; the city hosts countless artsy January events to trigger your FOMO.
Do you hear that? It's music—music coming from every corner. In January, Tucson Jazz Festival turns up the volume for 11 straight days, with musical acts performing at venues all over town, including the free all-day Downtown Jazz Fiesta. Overlapping with the jazz ensembles, the Tucson Desert Song Festival runs for three weekends, showcasing soloists with renowned Arizona groups, such as the Tucson Symphony Orchestra and the Arizona Opera. That's music to your ears.
Feeling the pressure yet? Well, it gets worse: the Tucson Fringe Theater Festival (a 3-day presentation of avant-garde art performances) and the Tucson International Jewish Film Festival run at the same time during the middle of January. And just to further up the ante, the world's largest gem show, the Tucson Gem, Mineral & Fossil Showcase sets up shop at the beginning of February. Sorry, not sorry!
"Down-home, yet sophisticated. Laidback and bustling with high energy. Traditional and avant-garde at the same time. These qualities allow Austinites and visitors alike to embrace the city's unique, often quirky, identity, and appreciate the traditions that it was founded upon," said Katherine Wise, Communications Manager at Visit Austin.
Yes, you've heard about the weird and wonderfulness in Austin, and you, too, want to join in on the action. Lucky for you, this quirky Texas town is extending an invitation for you. Only thing is, you have to decide when you'll make your journey here—which is trickier than you think. On any given day, Austin has countless FOMO-inducing attractions and events, so you'll be pressed to prioritize!
"Over the past two decades, the small university town where Willie Nelson crafted his own unique musical style grew into a big city with a glittering skyline and 2 million people in the metropolitan area," said Wise. When it comes to seeing the allure for yourself, consider visiting during March. During the onset of spring, Rodeo Austin takes over town, "where weird meets western." For two weeks, you'll split your time between fair rides, stock shows, and bareback riding competitions. At the same time, the annual Urban Music Fest turns up the sound, opening the floodgates for even more concerts in April and making you wish you could be in two places at once.
The following month, Jamaican beats resonate from the Austin Reggae Festival, but at the same time, live performances take over the stages at the Fusebox Festival. Of course, art and music thrive in this city, but so does the food, meaning you'll need to take a timeout to chow down on the famous local grub. Step right up to the ATX Food Truck Festival, where the best mobile cuisine sets up at Barton Creek Mall, or fiend for the fare at Austin Food + Wine Festival. Beyond the festivals, you'll hear music streaming from the bars and venues, while the smell of barbecue wafts from the local joints, adding even more charm and temptation to your case of FOMO.
It's always a good time to visit Rockland, but the seaside city really takes it up a notch come summertime. So much so, you'll find yourself pressed to decide which events and attractions to put at the top of your list. The much-celebrated events are a must, but don't overlook an afternoon strolling Main Street and a sailing adventure on Penobscot Bay.
July in Rockland is responsible for all your FOMO fretting, as it kicks off the fun with the Maine Windjammer Parade. You'll soon realize the significance of maritime ways on this stretch of coastline, as the annual windjammer procession celebrates its nautical roots with a fleet that sails past Rockland Breakwater. For more seafaring celebrations, you can't skip Friendship Sloop Days, which commemorate the Friendship sloop design.
Amid all the sailing jubilees, the North Atlantic Blues Festivals wails. This 2-day musical frenzy, puts the spotlight on some of the East Coast's finest blues musicians—something you'll totally regret not experiencing for yourself. While the blues fest hits the Public Landing stage in middle of the July, the incredible Maine Lobster Festival doesn't occur until the first week of August, which means you'll have to either stay in town or make a choice. Did we mention that they serve more than 20,000 pounds of locally caught lobster during the famous foodie fest? Yeah, good luck choosing.
You've heard all about Christmas City and you've been planning to see the holiday cheer for yourself, but did you know Bethlehem has its fair share of summer shindigs, too? The FOMO struggle is real in this PA town, where you'll have to pick between warm outdoorsy events and the magical holiday festivities.
When it comes to the summertime, even deciding between July and August will be tricky, as July brings the annual Blueberry Festival and VegFest, while August welcomes the Musikfest. Celebrating all things blueberry, the July festival is a fruit lover's dream with cook-offs and eating contests, while the VegFest serves up the finest vegan eats in the Lehigh Valley. As for the Musikfest, this 10-day music extravaganza makes some noise as more than 300 performers take the stage.
Come wintertime, the Christmas spirit starts as early as mid-November, as Bethlehem ramps up the annual Christkindlmarkt, a 5-week bazaar. Representing its biblical namesake, the city delights with other holiday-themed events, including a Live Advent Calendar, Christmas City Stroll, and a Bethlehem By Night bus tour. Sounds like a prime time to crack open the eggnog!
If you're exploring Madison in July, you're in for a doozy. Your schedule will either be packed to the brim, or you may find yourself choosing between events (and having major FOMO as a result). But let's be honest, having too many fun things to do in Madison has never been a bad thing!
The Art Fair on the Square is a 2-day event in July that shows off the wildly creative talent of more than 500 artists. Hosted by MMoCA, this art fest takes over Capitol Square with nearly every kind of art work you could imagine—sculptures, jewelry, photographs, prints, and more. To see more of what the locals have up their sleeves, you won't want to forgo the Dane County Farmers Market, every Wednesday and Saturday, which is the nation's largest producer-only market.
The incentives keep on coming though, as the Dane County Fair sets up shop for several days in July, bringing with it carnival rides, nightly concerts, and stunt shows. And if that wasn't appealing enough, the Wisconsin Chamber Orchestra presents Concerts on the Square every Wednesday night from June to July; a real musical treat. Can you fit it all in?
Here's the thing, Ocean City in the summertime is something you need to experience at least once in your life: splashing in the Atlantic to cool off, eating an ice cream cone on the boardwalk, and getting dizzy on the rides at Jolly Roger. But the beauty of this coastal town is the fun doesn't stop when the tourist crowds leave after Labor Day. In fact, September is just when the party's getting started! So, the predicament lies in whether you stick around for the summertime vibes or linger in early autumn when the calendar is crammed full.
In the middle of September, you can pretend summer is still going strong at the annual Sunfest, a free multi-day event with live music, crafts, and good eats, or you could don your favorite leather jacket and join 150,000 bikers at the legendary Bike Week. Better yet, Wine on the Beach occurs at the end of the month, inviting you to sip grape libations right on the water.
But you if you stick around for the first weekend of October, you'll thank yourself later. The engines start revving at Endless Summer Cruisin', a massive vintage car show with everything from hot rods to tricked-out trucks. There are a ton of must-attend events during this time, if you don't make time to soak up those last remaining beach days, before the chillier temperatures arrive, you just may regret it later.
Las Cruces, with its scenic mountain backdrop, belongs at the top of your list. Beyond its beauty, it hosts a myriad of events throughout the year that will make your friends jealous—and you, if you don't experience them all to the fullest. September is an especially happenin' time in town as the state's second largest city ramps up its calendar with all kinds of super cool fests. You'll be green with envy if you miss any of these attractions:
Grape stomping and wine tasting jumpstart the month of September in Las Cruces—does it get much better than that? The New Mexico Wine Harvest Festival is a 3-day revelry of the grape variety, with live bands and glasses filled high with juice from the local wineries. That's just the start of the excitement though, as the Southern New Mexico State Fair & Rodeo rolls into town toward the end of the month, complete with bull rides, livestock shows, stunt performers, and petting zoos. Competing for your attention, the Mesilla Valley Maze sets up at the end of September through October, where you'll get lost in the 5-acre corn maze and spend all day roaming the 20+-acre pumpkin patch to get you in the Halloween state of mind.
The awesomeness extends beyond the city limits, as neighboring Old Mesilla and Hatch have their own enchanting events that will further put you in a predicament. Do you stick in town for Las Cruces' rodeo or do you venture to Old Mesilla for the Diez y Seis de Septiembre Fiesta for mariachi music and Mexican comida? We hate to break it you, but nearby Hatch holds the Hatch Chile Festival in September, too, where you can devour the famous pepper in what is considered the chili capital of the world! We can already feel the FOMO kicking in…
Any time you explore the wonderful world of Bardstown, you have to consciously keep your FOMO in check, but visit during the fall, and you'll find yourself in a whole other ball game. Everyone clears their schedules for the annual Kentucky Bourbon Festival, but trust us, that's not the only thing to catch your fancy in this part of town!
In early September, the Kentucky Bourbon Festival invites you to sample "the world's finest spirits in the Bourbon Capital of the World," and we can't argue with that! For seven straight days, the bourbon is flowing, but in addition to tastings, they put on all kinds of events from spectacular galas to photography contests. Not to stray too far from the city's whiskey ways, give into temptation as you experience the Barton 1792 Distillery Sundown Series for more bourbon tastings, food truck fare, and live music.
After all those shots, it's time for some suds at the Bardstown Craft Beer Festival! This October brew bash pours more than 50 local and imported beers and serves local cuisine, giving you a sweet taste of the region's flavor. But you better believe that's not the only alluring entertainment on the schedule. October weekends at FFA Field of Terror Haunted Corn Maze will test your bravery, while the Bardstown Arts, Crafts, and Antiques Fair showcases more than 200 booths with wares from local vendors. So much to do, so little time!
What cities give you the worst case of FOMO?
---
[one_half]Photo attributions:
Seattle
Top Right: Flickr/Seattle Municipal Archives
Top Left: Flickr/Steve Voght
Bottom Left: Flickr/Bobby Arispe Jr.
Bottom Right: Shutterstock.com/ Roman Khomlyak
Boston
Top Left: Flickr/City of Boston Archives
Top Middle: Flickr/Jeff Gunn
Top Right: Flickr/Madeleine Ball
Bottom Left: Flickr/JD
Bottom Right: Flickr/Ken Lund
Little Rock
Top Right: Yelp/Jefferey A.
Bottom Left: Yelp/C D.
Bottom Right: Yelp/Noah H.
New Orleans
Top Left: Flickr/Joe Van
Top Right: Flickr/Joe Van
Bottom Right: Flickr/Mark Gstohl
Bottom Left: Shutterstock.com/f11photo
Bloomington
Left Top: Flickr/Jeff Hart
Jacksonville
Top Left: Flickr/Rob Bixby
Top Right: Flickr/National Museum of the U.S. Navy
Bottom: Shutterstock.com/Sean Pavone
Tucson
Left: Yelp/Kamryn C.
Right Bottom: Yelp/Angela W.
[/one_half]
[one_half_last]

Austin
Top Left: Flickr/jdeeringdavis
Bottom Left: Flickr/Valerie Hinojosa
Top Right: Flickr/f11photo
Bottom Right: Flickr/Incase
Rockland
Top Right: Yelp/Danielle F.
Bottom Left: Flickr/Rebecca Siegel
Bottom Middle: Flickr/madamjujujive
Bottom Right: Flickr/kmf164
Bethlehem
Top: Flickr/Bill Dickinson
Bottom Far Left: Flickr/Lehigh Valley, PA
Bottom Middle Left: Flickr/Jack
Bottom Middle Right: Flickr/Lehigh Valley, PA
Bottom Far Right: Flickr/Mike Rastiello
Madison
Bottom Left: Yelp/Samantha H.
Bottom Middle: Yelp/D. M.
Right: Yelp/John P.
Ocean City
Top Left: Flickr/John M.
Bottom Left: Flickr/Lee Cannon
Right: Flickr/m01229
Las Cruces
Top Left: Flickr/Nan Palmero
Top Right: Flickr/Stuart Seeger
Bottom Left: Yelp/Brieanna W.
Bottom Right: Yelp/David T.
Bardstown
Top Left: Yelp/Duke Of Frisco X.
Bottom Left: Yelp/Dwayne S.
Header image: View Apart/Shutterstock.com
[/one_half_last]