By Expedia Team, on February 7, 2018
20 Places to encounter Bigfoot
The mystery of Bigfoot has puzzled rural residents and scientists for decades. Reports of these tall, hairy forest dwellers have been met with everything from adamant disbelief to rigorous research. Leaning into the mystery, we've sifted through news reports, sasquatch archives, and local legends to find the best towns for encountering Bigfoot. Whether you're just a curious adventurer or a Bigfoot believer, join this romp through the weird and wonderful world of sasquatch sightings. Many of this mysterious mammal's favorite places are close to enchanting towns and natural wonders, so even if you don't find Bigfoot this time, you'll have an interesting getaway.
Before you gather your gear and go in search of proof that Bigfoot is real, remember that these destinations are habitats to hundreds of species of wildlife. If we travel gently, sasquatch will stick around to astound generations of curious campers and hopeful hikers. Ready to put the sass in sasquatch? We've gathered a list of "squatchy" towns, cities, and counties in the ten states with the most reported sightings of Bigfoot in the country.* Pack your bags and come decide for yourself whether these local legends are fact or fiction…or just surprise encounters with the neighbors after no-shave November.
1. Washington – 642 sasquatch sightings to date
With 642 sasquatch sightings reported through 2017, Washington is definitely the most active state for our favorite gentle giants! Hey, Bigfoot's a discerning omnivore. What's not to love about a stunning coastline, craft coffee, and lots of tasty weeds? For several years there was even a Plan a Sasquatch Music Festival held annually at the Gorge Amphitheatre in gorgeous George. (Yes, the town is called George, Washington.)
The folks in Skamania County don't just accept their gnarly neighbors; they protect them and the other wildlife in the area with local legislation. It's illegal to hunt Bigfoot here. The small community of Carson is home to natural hot springs and historical 1930s bathhouses, and it's the location of many Bigfoot sightings dating back to the 1850s. Sounds like not even sasquatch can say no to a therapeutic soak. Reports date back to the 1850s, so be on the lookout as you hike through Gifford Pinchot National Forest.
2. California – 437 sasquatch sightings to date
For the past decade, visitors and locals have reported several sightings in the South Lake Tahoe area. As recently as 2012 and 2014, these reports made local headlines in The Union and on Fox News. According to outdoor adventurers and luxury travelers alike, someone loves to make a lot of noise at night—someone taller and scruffier than your average NorCal resident. But who knows? Maybe Bigfoot is just a tech genius hard at work on a new tree-finding app.
Closer to the coast, Willow Creek in lush Humboldt County—California's squatchiest county—has been the location of a few sightings as well as an exhibition at the Willow Creek – China Flat Museum. The collection includes popular Bigfoot theories and artifacts, and you won't be able to miss the museum as you drive by—just look for the towering 25-foot redwood 'squatch sculpture. Can't get enough? Chow down at Bigfoot Steakhouse—they serve an omnivore-friendly menu of barbecue, burgers, and even some salads, too, and of course, steaks that could lure sasquatch from the woods!
3. Florida – 313 sasquatch sightings to date
New Smyrna Beach is a quiet beach destination, but every once in a while there are reports of tall animals wandering around the waterfront. In this area, they call Bigfoot the Skunk Ape, thanks to the peculiar odor that accompanies the sightings. Maybe yeti's North American cousin is just looking for a nice resort shower. Can you blame 'em? Spend a Saturday morning at the local farmers market and pack some snacks for a twilight 'squatch watch on the beach, or take advantage of the view from JB's Fish Camp Seafood Restaurant—a family favorite that started in the '70s as a raw bar. Eat Bigfoot's weight in local Floridian seafood.
Ochopee is home to the stunning Big Cypress National Preserve, where there are several Bigfoot reports and plenty of places to explore the Everglades. The preserve covers over 729,000 acres of swampland and sasquatch is just one of the many species who loves the winding waterways and misty mornings. Hike through the tropical paradise, take a ranger-guided canoe tour, and relax in South Florida's easygoing atmosphere. You might even see sasquatch from the patio at Camellia Street Grill! The dining area feels like your best friend's patio right on the waterfront…if your best friend's next-door neighbors are 10 feet tall and have terrible table manners. 
4. Illinois – 289 sasquatch sightings to date
Incorporated in 1818, Edwardsville is the third-oldest city in Illinois, and the setting of several 'squatch sightings and footprint findings. The surrounding Madison County has had 23 more Bigfoot reports to date, more than any other county in the state, and the local guide RiverBender.com has kept its finger on this elusive pulse. The trails at Watershed Nature Center are great for observing feathered and furry friends, including Bigfoot! Most of these encounters take place after dark, so this is the place to be if you like your nightlife…on the wild side.
Carlinville has an adorable public square with a gazebo and historical storefronts that could charm even Bigfoot's enormous socks off. That must be the case, too, as this happens to be the site of many Bigfoot encounters in just the last five years. After at long last spotting the elusive beast, toast your success with a round of drinks at the Anchor Inn.
5. Ohio – 275 sasquatch sightings to date
East Liverpool is the location of Beaver Creek State Park, where two sightings were reported to take place during daylight hours in 2003 and 2008. Bring your canoe for a relaxing float down Little Beaver Creek while you scan the trees for a glimpse of something grand.
Tipp City is located near the Great Miami River, and according to reports from June 2017, a group of friends on a fishing trip spotted a tall 8- to10-foot creature and disrupted surroundings, including broken trees. Scouting out sasquatch tracks is exciting, but you might never want to leave this enchanting historical downtown. Tipp Roller Mill is an awesome venue for live music and events. Thursday nights feature live music from bluegrass and orchestra ensembles. We hear Bigfoot can't resist a good banjo solo!
6. Oregon – 245 sasquatch sightings to date
In Cave Junction, many people have reported Bigfoot while touring the Oregon Caves National Monument & Preserve, including psychologist Dr. Matthew Johnson, whose well-known sighting received national media coverage in 2000. The Caves are the perfect place to search for 'squatch, enjoy a family picnic, and indulge in one of the historical Chateau's famous milkshakes, which apparently bring all the Bigfoot to the yard.
Near Cascade Locks, hikers often see or hear strange creatures while exploring the Columbia River Gorge. This area covers a stretch of Lewis and Clark's expedition, and was part of the Oregon Trail. Maybe some of the Pacific Northwest's 19th-century explorers met sasquatch, too! This area is full of natural history, including the ancient and lore-laden stone Bridge of the Gods.
7. Texas – 230 sasquatch sightings to date
Daingerfield is all about peaceful days in the great outdoors, especially at Daingerfield State Park, where park employees saw and recorded Bigfoot in September 2017, according to news outlet My San Antonio. Besides looking for sasquatch, relax by the expansive lake, hike the winding trails, or enjoy a picnic in the company of the park's other four-legged residents.
Alice may have an unassuming name, but this town has been the talk of the region for over 40 years. Texas is known for doing everything on a large scale, so it's no surprise that even their small towns would be home to creatures named for their terrific tootsies. Gabriel Guerrero is a Bigfoot investigator, who has been following the reports in this area, and his accounts made the Corpus Christi news in October 2016. Visit this South Texas community to follow some of the most active 'squatch stories in the state!
8. Michigan – 213 sasquatch sightings to date
Beulah is the location of the Platte River State Fish Hatchery, and the village where the famous Northern Michigan Eagle Cam video of Bigfoot was captured in September 2016. In this video, a tall, hair-covered creature can be seen hiking on two feet along the forest floor, far beneath the eagles' nest. This footage may be inconclusive for some, but it really makes you wonder, what or who is Bigfoot?
You can't go any further north in the Upper Peninsula than Seney, where there have been several reported sightings in the forest at Seney National Wildlife Refuge, including an eye witness account published by the Detroit Free Press in November 2016. Wander around these 95,455 acres of secluded marshland, and you'll understand exactly why sasquatch loves this gorgeous corner of the American North—she's just looking for a little peace and quiet!
9. Missouri – 139 sasquatch sightings to date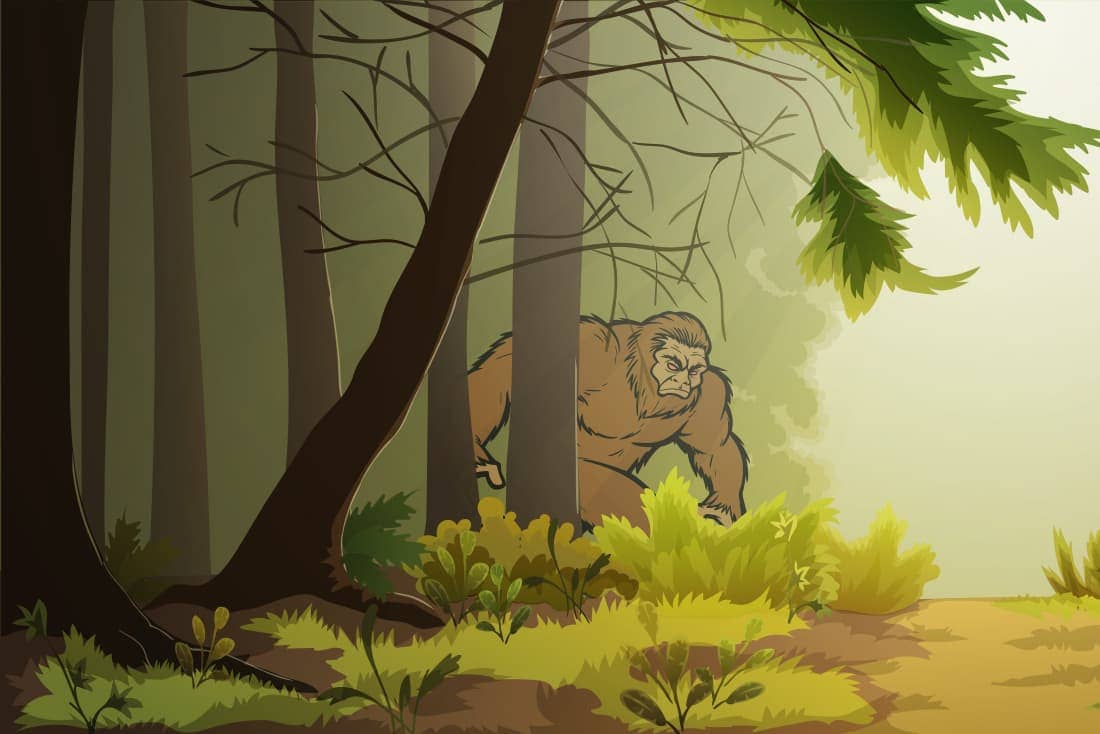 In the past five years, Ellington has been the location of multiple Bigfoot reports. Go for the sasquatch search and stay for the family fun! This town is sitting pretty in the Ozark Highlands with scenic rivers and community events, like a farmers market and music and movies in the park during the warmer months. Maybe you can request a screening of "Harry and the Hendersons" and watch life imitate art.
Branson was featured on Animal Planet's "Finding Bigfoot" in 2015, as the show's production team sought eye-witness accounts from locals all over this squatchy state. Want to take the 'squatch up a notch? Of course you do! Branson's newest wildlife attraction, Bigfoot on the Strip at Bigfoot Fun Park, opened in 2017, and it's like a Scottish cattle drive and a rugged safari all in one!
10. Georgia – 132 sasquatch sightings to date
Georgia may be the final state on our Bigfoot bucket list, but don't worry! Encounters with the wooly colossus have been reported in every state, except for Hawaii (that's a missed opportunity). Cherry Log, Georgia may be a relatively small community in Gilmer County, but it's home to Expedition: Bigfoot!, a museum dedicated entirely to the mystery of sasquatch. Learn about the most famous investigations and get a little closer to solving the mystery.
Bigfoot's many visits to Helen might suggest he or she likes pilsner and bratwurst as much as the rest of us! This charming Bavarian mountain town sits on the edge of Chattahoochee-Oconee National Forest. There have been several Bigfoot reports on the trails and campsites near the town, specifically along the Appalachian Trail. Start your outdoor adventures at the Anna Ruby Falls Visitor Center for info on the local trails.
 Do you believe in Bigfoot?
 *According to the Bigfoot Field Researchers Organization and network news updates.