By Lily Rogers, on February 12, 2018
America's most artistic towns
"Art is a nation's most precious heritage. For it is in our works of art that we reveal to ourselves and to others the inner vision which guides us as a nation." –Lyndon Johnson
Why do you love to travel? Chances are, it's not so you can do the same things over and over again, but to see, hear, and feel something new. Art also allows us to do this, to take journeys to new ways of thinking and experiencing the world, to see deeper and live richer through imagination and connection. Perhaps that's why it is so exciting to visit places with thriving arts communities, where you may run across colorful graffiti and murals, talented street performers, inspiring museums, stimulating literary events, and world-class theater.
In our second-annual feature of the most artistic towns in America, we followed largely the same rules as last year, finding another wealth of places currently giving our large cities a run for their money with creative festivals, top art schools, cutting-edge productions, dynamic street art, and generous community support and patronage. As we know, the major cities of the U.S. are leading centers of art with bigger resources and tourist draws, but this country's mid- and small-size places keep exciting, surprising, and thriving with their creative spirits and innovation.
As with last year, we've chosen cities with populations under 1 million in the city center, but this time we are presenting them from least populous to most. For all their efforts, both recent and historical, these are the cities we've found are most contributing to the artistic culture of our country.
Size by population:
Large: 350,000 – 1 Million
Medium: 100,000 – 349,999
Small: 20,000 – 99,999
Smallest 1,000 – 19,999
Smallest
Population: 1,652
Why we're inspired:
With strong theater roots, Spring Green maintains its passion for plays at the exceptional American Players Theatre. Founded in 1977, and with a brand-new stage in 2017, the company is constantly creating fresh takes on favorites. Productions span classical and modern, from Shakespeare to Chekhov. Autumn visitors should take the Fall Art Tour, which is part road trip, part leaf-peeping, but mostly an opportunity to meet some of Wisconsin's most well-known artists, who open their studios for an insider view to the creative process. Visual arts also prevail at the local galleries like the Jura Silverman Gallery, The Opal Man, and Wilson Creek Pottery, and are supported by organizations like the Spring Green Area Arts Coalition and Shake Rag Alley Center for the Arts. American master Frank Lloyd Wright made the area his home, and his Wyoming Valley School (the only public school in his repertoire) now provides space for workshops, performances, lectures, and exhibits that foster creative endeavors of the area.
Population: Saugatuck: 980; Douglas: 1,305
Why we're inspired:
If you come to this area for the trails, beach, and other outdoor pursuits, you'd sell yourself short not to take part in the rich cultural offerings of the Art Coast of Michigan. Its artistic roots were planted a century ago, when Ox-Bow began as a haven for artists and grew into the school of art and artists' residency that it is today, in affiliation with the School of the Art Institute of Chicago. The culture of creativity that sprang up from art students looking for more natural inspiration and outside-the-box thinkers settling in, has fostered the growth of galleries, live performances, and art events, making this region an exciting destination for creativity-seeking travelers. See live theater, attend workshops, or take in the exhibits at the bold Saugatuck Center for the Arts. Also, come in summer for the Waterfront Invitational Art Fair or Village Square Art and Fine Crafts Fair, pop into Amazwi Contemporary Art or Water Street Gallery, or create your own works at the Express Yourself Art Barn.
Population: 7,585
Why we're inspired:
Widely known for food, wine, and relaxation, this laidback Southern California town takes art into the spiritual and healing realms. And 2018 looks to be trending toward the need for both, so the time is right to hightail it to Ojai. See what is driving the local muses at OVA Arts, part teaching studio, part gallery owned by several residents. Housed in a former Mission Revival church, the Ojai Valley Museum will acquaint you with the history of area arts, as they live on at events such as the Ojai Storytelling Festival and the Ojai Music Festival. The Ojai Art Center has hosted the annual Art in the Park for 41 years, which is a juried fine-arts show that supports community artists. Don't leave town without stopping in galleries like Tartaglia Fine Art, Human Arts Gallery, and Porch Gallery. And doubly do not miss Bart's Books, the biggest independent outdoor bookstore in the country, where poetry nights, spoken word events, and author signings happen on the regular.
Population: 14,271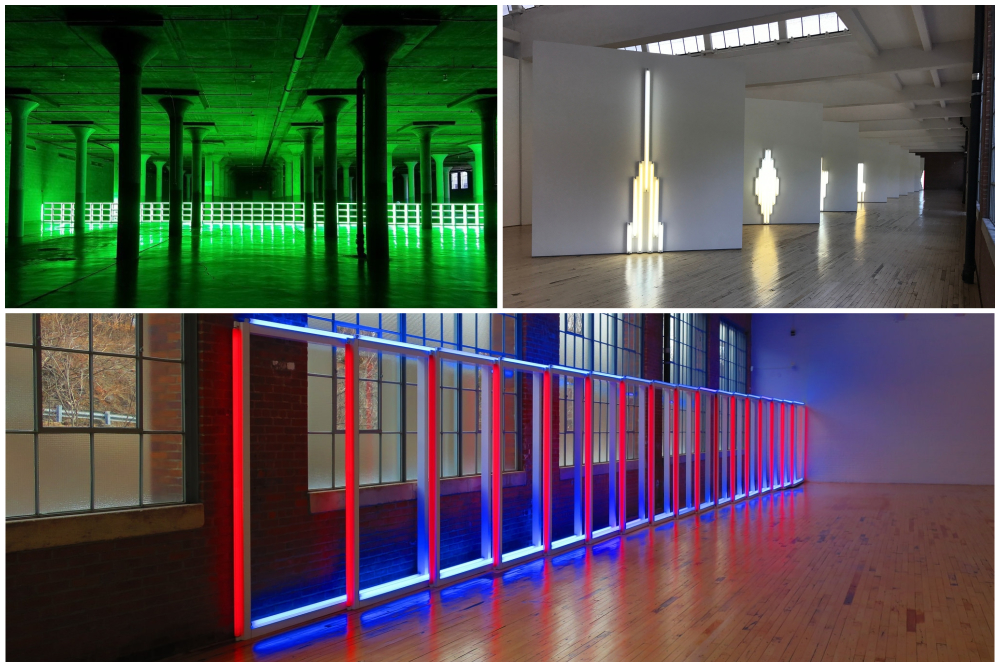 Why we're inspired:
Aptly named, Beacon is shining like one in the art world with its well-worth-the-trip treasure, Dia:Beacon. The Dia Art Foundation has other sites, but the spacious galleries of the Beacon location house big installations, ambitious projects, and works from the 1960s to today. Oh, it also happens to grace many lists of best museums in the country. Perhaps due to its draw, other art spaces and galleries are really getting their legs here, and there is almost always something new to see. The Beacon Artists Union is in its 14th year, and hosts events in film, music, performance, and every variety of visual art. Matteawan Gallery focuses on boosting the careers of emerging artists with well-curated exhibits. An artist-run space where people can sell, exhibit, and promote their work, Catalyst Gallery also takes part in the city-wide Second Saturday event, when spaces stay open late and there are performances and tasty treats.
Small
Population: 23,290
Why we're inspired:
Music venues, art galleries, performance spaces: Oxford offers places to experience culture not found in towns twice its size. From the Southside Gallery's monthly exhibitions and participation in the Oxford Arts Crawl to the exhibits at the galleries of the University of Mississippi, visitors and residents are not left wanting when it comes to visual pleasures. Lovers of literature should bookmark the Oxford Conference for the Book or the Faulkner and Yoknapatawpha conference. At the Gertrude C. Ford Center for the Performing Arts, audiences enjoy Broadway shows, concerts, and ballet. Annual events like the Double Decker Art Fest electrify the town with two days of live music, art vendors, food, and community. The city also benefits from programs like the Arts Incubator. Spearheaded by the Yoknapatawpha Arts Council, it helps grow local artists' and entrepreneurs' arts businesses with various workshops, peer learning sessions, and networking events.
Population: 40,531
Why we're inspired:
The only town returning to the list this year, Quincy captured our imaginations once again for its commitment to the arts and support of the creators who contribute so much to the area. The arts are its blood, having hosted the first American community arts council when Quincy Society of Fine Arts was established in 1947. Today, the Quincy Art Center serves as museum, resource center, exhibition space, and educational institution. The District in downtown Quincy is home to the Blues in the District concert series, and they've introduced a new event, QFest, which celebrates all things creative in Quincy. The juried arts exhibition is the center of the festival, which also celebrates the musical and culinary arts with food vendors and live performance.
Population: 48,743
Why we're inspired:
With organizations like the Minot Area Council for the Arts to bolster the scene with events like Arts in The Parks (which provides 24 free summer concerts), the Minot Street Art Movement, and the Minot Artspace project, this town is flexing real artistic muscle. Opportunities to engage in art can also be found at The Big One Art and Craft Fair events, exhibits from the art program at Minot State University, The Taube Museum of Art, and galleries like 62 Doors Gallery Studios and Heart of the Turtle Gallery. Music lovers are in luck, too, because Minot is the said to be the smallest city in the U.S. with a full-size orchestra, the Minot Symphony Orchestra, and venues like Pangea House hold intimate live shows where patrons can discover the best of the underground scene. Finally, the annual Why Not Fest is held over three awesome days of music and literature and is touted as a showcase for "everything that excites us locally and regionally." 
Population: 83,875
Why we're inspired:
Santa Fe has been attracting artists for as long as it's been around. In fact, the pieces collected in places like the Museum of Indian Arts & Culture include some of the oldest surviving Navajo textiles, as well as 17th-century pottery from Southwest tribal communities. Global folk art is celebrated at the Museum of International Folk Art, which has the largest collection of the genre in the world, and at the International Folk Art Market, which is the largest market of its kind, and benefits art communities internationally. Perhaps the most famous artist to call Santa Fe home, was Georgia O'Keefe, and the museum that bears her name holds hundreds of her works, along with that of other modernist peers. The Santa Fe Artists in Residence brings local artists to designer hotel events, which range from wine receptions to full dinners with the artists—connecting visitors to the local scene. Participating hotels include Hotel St. Francis, La Posada de Santa Fe, and Hotel Santa Fe. There are over 100 galleries in the city, and Art Santa Fe is a 4-day show of curated exhibitions by local and international artists. If moving pictures are more your style, visit during the Santa Fe Film Festival and get inspired during its lively panels, screenings, and workshops. Within the county also lies Madrid, a small village and arts community with a high gallery-to-people ratio (try Indigo Gallery, The Johnsons of Madrid, and Silver Day Trading Company), where art is quite literally a way of life.
Population: 91,191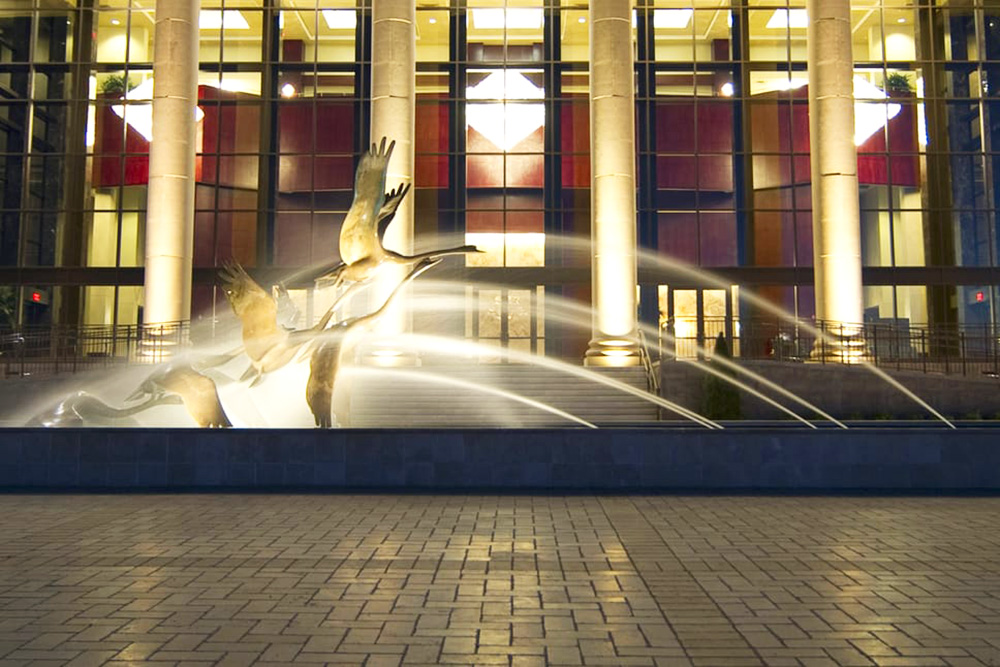 Why we're inspired:
Public art is one of the best ways for a community to fly its art flag, and Edmond has much to see, including dozens of sculptures around town. Standouts include: the graceful Destiny, on the corner of Broadway and Campbell; Unfolding Star on E. Edwards; Kinetic Air on N. University; and Woman with Shawl on N. Broadway, but public art aficionados should take a tour to see them all. Let creativity flow at the Conservatory for Classical Art, which holds workshops and open studios where community members can further their access and involvement in the arts. See world-class music and dance in the beautiful Armstrong Auditorium, from classical, jazz and folk music to theater, classical ballet, and folk dance. The performing arts also thrive at Upstage Theatre, which also provides classes in dance, music, acting and stage production. Looking to support the local community? The HÜE Studio Gallery is artist-owned, and features exhibits that are modern and innovative. Welcome spring's muse at the Annual Arts Festival as it celebrates its 40th year in May.
Medium
Population: 108,090
Why we're inspired: 
Boulder takes it cues from the intensely beautiful natural surroundings, but it doesn't stop there, and this is no hotel landscape painting community. The art coming from Boulder is fresh and experimental, and there are countless ways to enjoy it—from bustling, large-scale events like Boulder Arts Week, with its multi-venue, multi-genre celebration of art to the Colorado Shakespeare Festival, which breathes its own brand of innovation into classic plays. Boulder International Film Festival and Jaipur Literary Festival dive into new realms of both the written word and motion pictures from around the world. Visiting in between art events? There is still plenty to explore, from the NoBo Art District with its First Friday self-guided tours of art studios and creative shops and businesses to Pearl Street Mall's street performers and galleries to the Art Museum at the University of Colorado—Boulder's over 8,000-object permanent collection and rotating exhibits.
Population: 110,651
Why we're inspired:
Recognizable for its prestigious universities, Cambridge has a natural edge when it comes to cultural offerings. Through its intellectuals and innovators, the area sees support for the arts, with high degrees of creation and appreciation. Harvard and MIT naturally inform the artistic landscape, as do schools like the Longy School of Music of Bard College, which encourages students to impact the world with their art in new ways. First-rate museums, like the trio of Harvard Art Museums, which hold one of the largest collections in the country, are integral parts of the community. The Ethelbert Cooper Gallery of African and African American Art, opened in 2014, sees various curators and scholars at lively and engaging workshops, lectures, and performances. The sheer number of cultural events solidify its status as an art destination, with every manner of performance and exhibit imaginable, from spoken word to photography exhibits hosted by the Cambridge Arts Council and other groups.
Population: 120,782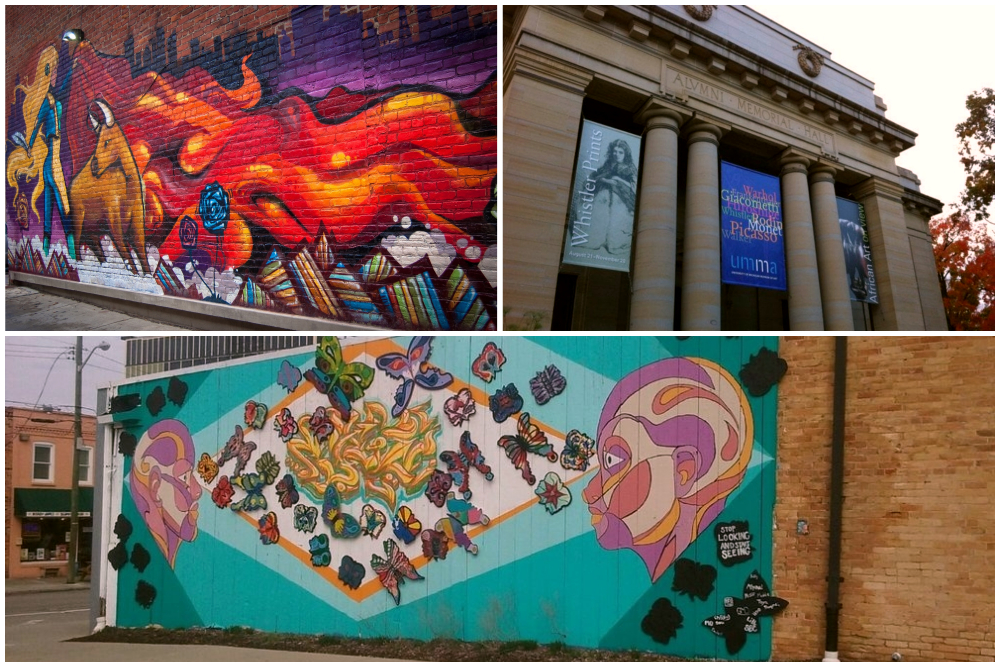 Why we're inspired:
Ann Arbor prides itself on having the creativity, attractions, and drive of a big city, while keeping the vibrant connection of smaller communities. The Guild of Artists and Artisans has been bringing art to the public since 1970 through events such as the Ann Arbor Street Art Fair, which is one of the largest art fairs in the country. The STAMPS School of Art and Design has a gallery where students exhibit, and the Ann Arbor Art Center has been supporting area arts for over 100 years, fostering community engagement at events such as ART NOW: Drawing. Ann Arbor Women Artists has been pushing boundaries since 1951, and it is organizations like this that give Ann Arbor its unique and authentic flair. University of Michigan Museum of Art's diverse collection includes more than 20,000 works, from modern art by the likes of Franz Kline to photographs by Dorothea Lange, to pieces form Asia, the Middle East, and Africa.
Population: 121,240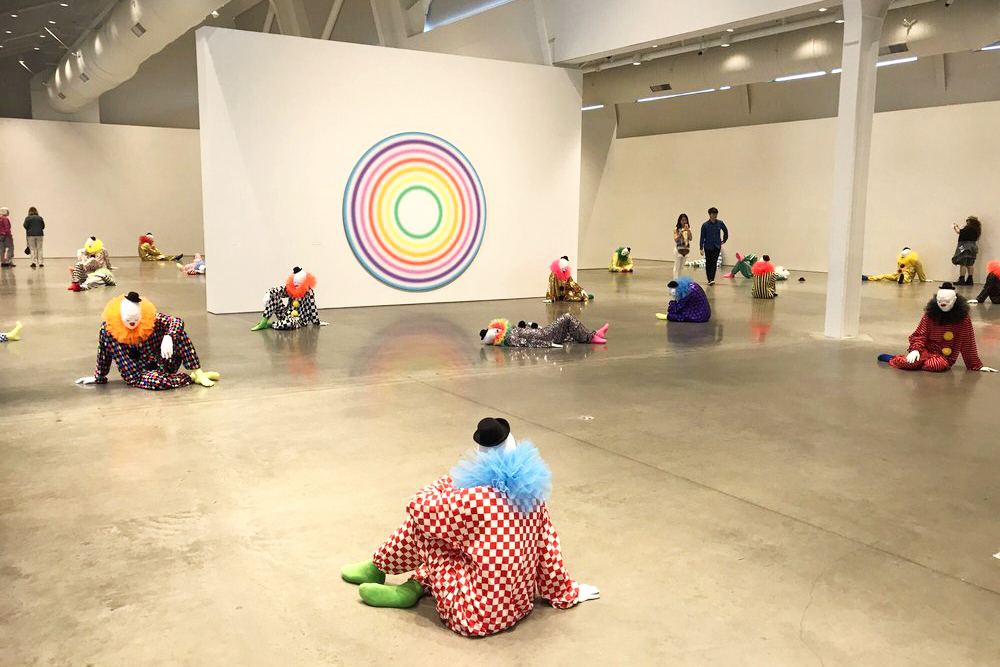 Why we're inspired:
Berkeley has had a stake in the arts in major ways, from its proximity to Oakland and San Francisco, to the vibrant university community that informs the area. The UC Berkeley Art Museum and Pacific Film Archive screens films, produces shows, and houses lectures and other tours. The Berkeley Art Center also combines music performances, art shows, and literary events, and has been fostering the arts since 1967. Theater is vital to the community, as evidenced by Central Works: The New Play Theater and its commitment to producing and staging new and dynamic shows, and the Berkeley Playhouse with its multigenerational and multicultural interpretations that bring new viewpoints and energy. Music, whether it be via buskers in the parks or classically trained musicians, is also a vital vein of Berkeley arts. The Berkeley Symphony works to bring music into the community, making it accessible to wider audiences. Meanwhile, the California Jazz Conservatory is the only accredited independent college dedicated purely to jazz in the U.S.
Population: 127,626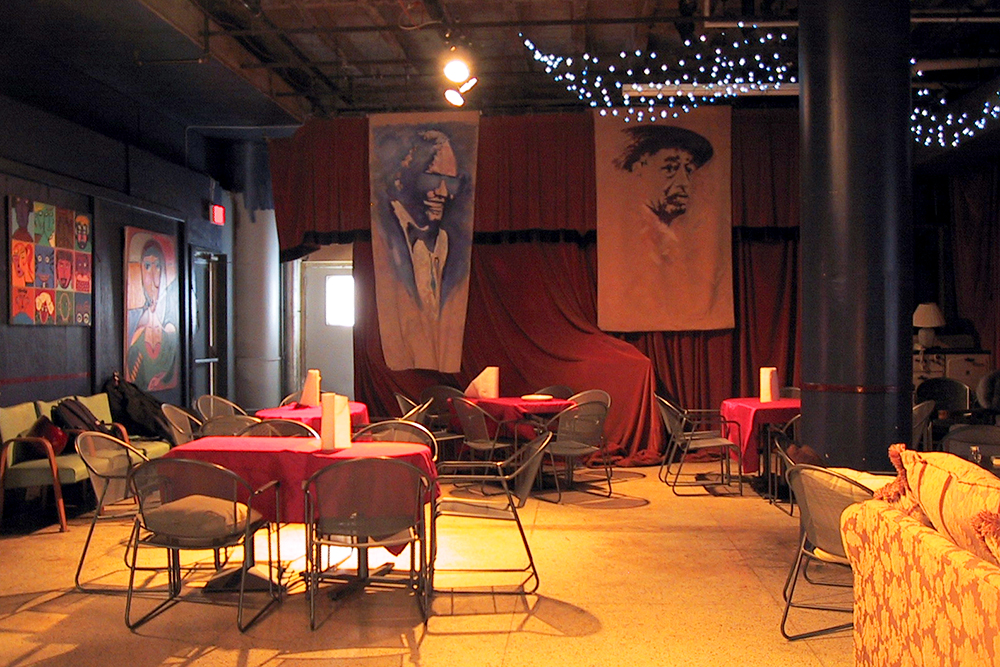 Why we're inspired:
Louisiana is a very unique state, and its cities are some of the most vibrant, bold, and defiantly boisterous. When you're here, you feel the presence of a different kind of muse, something that speaks a multitude of ways: meandering jazz, sizzling Creole and Cajun notes, simultaneously railing against its worst and honoring its best traditions. Lafayette is special for institutions like the University of Louisiana at Lafayette, where community involvement is part of its DNA, and the School of Music and Performing Arts is a center of social and cultural gathering. Creative people come together at festivities such as ArtWalk on second Saturdays, when art houses and studios open to the public in the Downtown Lafayette Cultural District. Southern Screen brings filmmakers and movie lovers together for a full weekend of screenings, music, screenwriting workshops, and parties. Cultures unite at the Festival International de Louisiane, which happens to be the largest international music and arts festival in the country. Champions of the arts, such as Acadiana Center for the Arts, the Lafayette Art Association, and Cité des Arts do their essential part in keeping art alive. 
Population: 146,763
Why we're inspired:
Savannah's artistic sensibilities span every genre, which can be experienced across the city at places like Jepson Center for the Arts. The beautifully designed space comprises 7,500 square feet of galleries where rotating exhibits as well as an interactive children's museum stir the deepest set creative spirits. The "art and soul of Savannah" is housed in Savannah City Market, where working artists can be seen in the Art Center or exhibiting in the galleries. If you like your art with a side of celebration, make it to town for the increasingly popular SCAD Savannah Film Festival or the Savannah Music Festival, which combines genres from chamber to jazz, and is a must for any true music connoisseur. Savannah College of Art and Design hosts new perspectives by its talented students that explore various mediums in group and individual exhibits. It hosts the annual contemporary art showcase, deFINE Art Festival, a much sought-after event, and the school is one of the finer arts schools in the country with highly respected programs.
Population: 298,800
Why we're inspired:
Cincinnati provides ample opportunity to take in the arts—from established museums to up-and-coming galleries, the artistic spirit is alive and well in this mid-size city. The Cincinnati Arts Association oversees the Aronoff Center for the Arts, which houses the Weston Arts Gallery, and the Music Hall, where the symphony and pops orchestras share the venue with touring acts, the Cincinnati Ballet, and the Cincinnati Opera (the second-oldest opera company in the USA). The CAA also oversees the Overture Awards, which recognize the talents of the city's young artists in writing, music, dance, and visual arts. The Cincinnati Art Museum not only has exhibitions of more than 67,000 pieces, it also promotes visitor involvement through programs, events, and activities. For all things new in art, the Contemporary Arts Center's rotating exhibits are must-sees, like the sculpture and performance of Glenn Kaino. Also, locals represent at Brazee Street Studios with galleries, open studio nights, and educational spaces.
Population: 215,472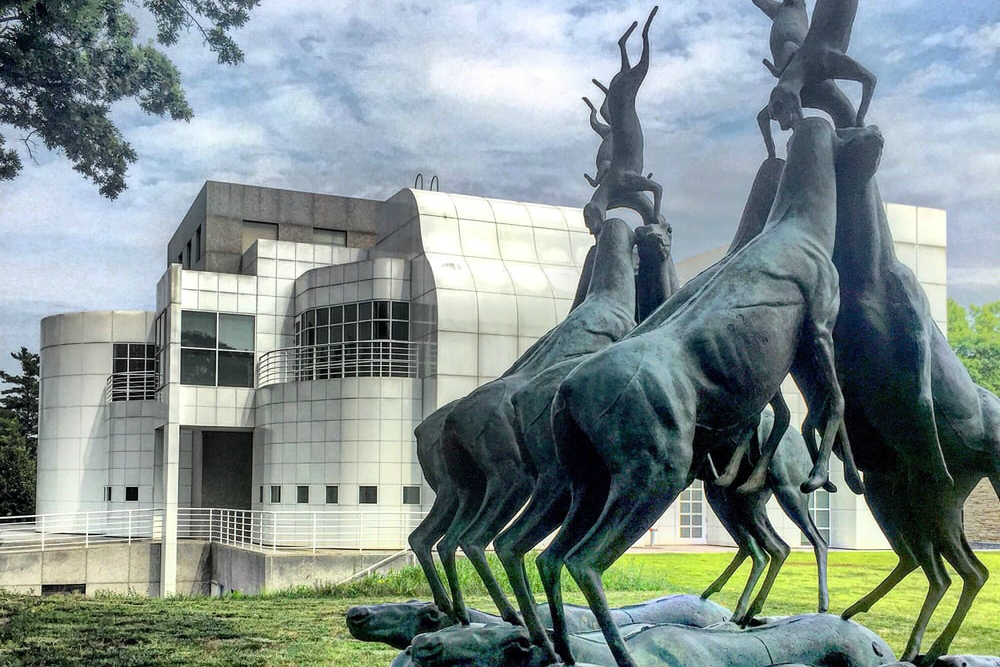 Why we're inspired:
It seems as though Des Moines intends to bring inspiration to you at every turn, and the way the community helps the arts thrive, it may just well reach that goal. This city has all the trappings of successful creative spaces: interesting galleries, growing museum collections, diverse festivals, accessible public art, thriving theatre, and all forms of music—from opera to street performers. Des Moines Art Center helps shape aspiring artists through its school and inspire visitors with its museum holdings from Georgia O'Keefe to Edward Hopper. The Des Moines Arts Festival succeeds in its aim to "educate, inspire and engage audiences toward a heightened appreciation of the arts," as evidenced by its nine IFEA Grand Pinnacle Awards. Des Moines Performing Arts focuses on world-class entertainment activities, staging shows at the impressive Des Moines Civic Center and other area theaters. Protecting and promoting art is noble work, and the Greater Des Moines Public Art Foundation does it well. It is responsible for much of the incredible public art through advocacy and funding, such as Jim Campbell's whimsical LED-lit "Swirl" or the delicate giant, "Nomade," by Jaume Plensa.
Population: 252,551
Why we're inspired:
Start your artistic journey on Madison's Museum Mile with stops at the Madison Museum of Contemporary Art, where free exhibits and a peaceful rooftop sculpture garden transport you to a world of creative vision above the fray. For more culture from up high, Monona Terrace has a Concerts on the Roof series, as well as free art exhibits in the roof gardens. The Chazen Museum of Art's collection spans multiple genres and time periods, and hosts talks and lectures and other free events such as Sunday Cinematheque art film viewings, and Sunday Afternoon Live monthly music shows. Spaces like Marzen, which means "of dreams" in Polish, are elevating established and emerging work as well as Madison's reputation as a must-do for art collectors, lovers, and practitioners. Check out the University of Wisconsin – Madison's art department exhibits at several galleries if you want to get insider knowledge on new generations of creators and visionaries.
Population: 211,277
Why we're inspired:
Tacoma is investing in its arts in big ways, launching ArtFull Tacoma in 2016, which supports art institutions, projects, and initiatives to add to its already blossoming public art, museums, and galleries. The town has art in its history, too. Tacoma Arts Commission is one of the oldest of its kind in the state, and currently seeks to support underrepresented areas of the city to grow the reach and diversity of area arts. Tacoma Art Museum houses the world's biggest collection of native Tacoman, Dale Chihuly, pieces, and you can also see his work and that of other glass masters at the unique and wonderful Museum of Glass. The art future looks bright at Northwest College of Art and Design, and students contribute to the wider community through projects, events, and other endeavors. If you've got the theater bug, head to Broadway Center for the Performing Arts for opera, symphony, ballet, as well as plays and musicals.
Large
Population: 315,685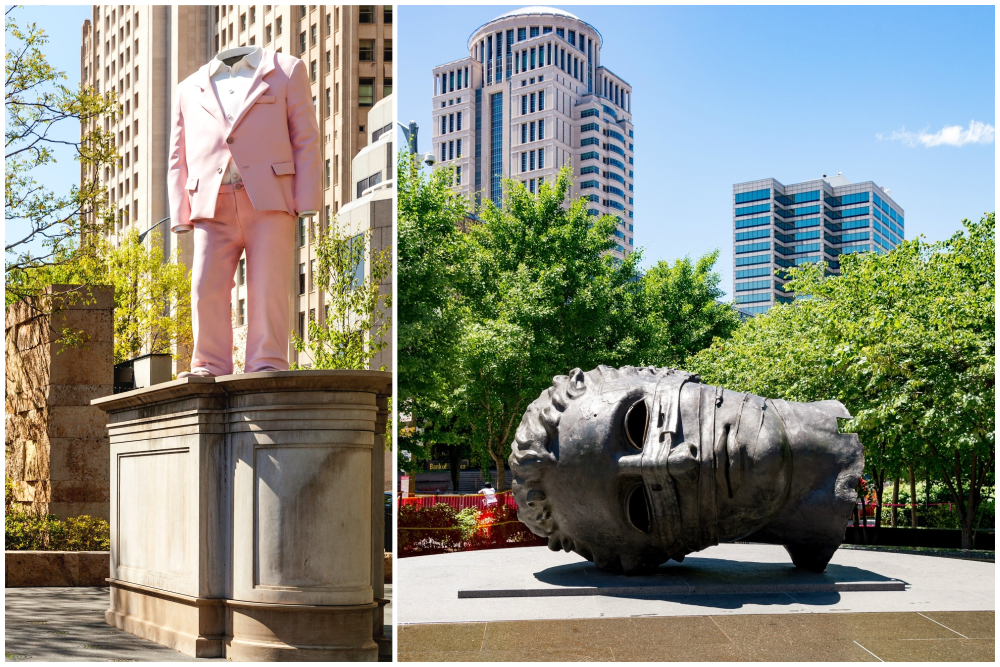 Why we're inspired:
From the surreal to the hyper-real and everywhere in between, St. Louis art will take you on a visual and auditory journey that is as sweepingly grand as its famous Gateway Arch. Take the 24 larger-than-life sculptures at Citygarden, which include Keith Haring's "Ringed Figure," Igor Mitoraj's "Eros Bendato," and Erwin Wurm's "Big Suit." The Saint Louis Art Museum, established in 1879, houses over 33,000 pieces from all over the world and across five millennia. For the latest and greatest, the Contemporary Art Museum St. Louis creates ways for the public to engage with today's art, from changing exhibits to First Friday gatherings to artist and author talks. Nature and art blend seamlessly at Laumeier Sculpture Park, with trails, green spaces, and sculptures throughout its 72-acre property. Definitely don't leave town without seeing the Pulitzer Art Foundation museum, where you'll find traveling exhibits and educational programs.
Population: 374,658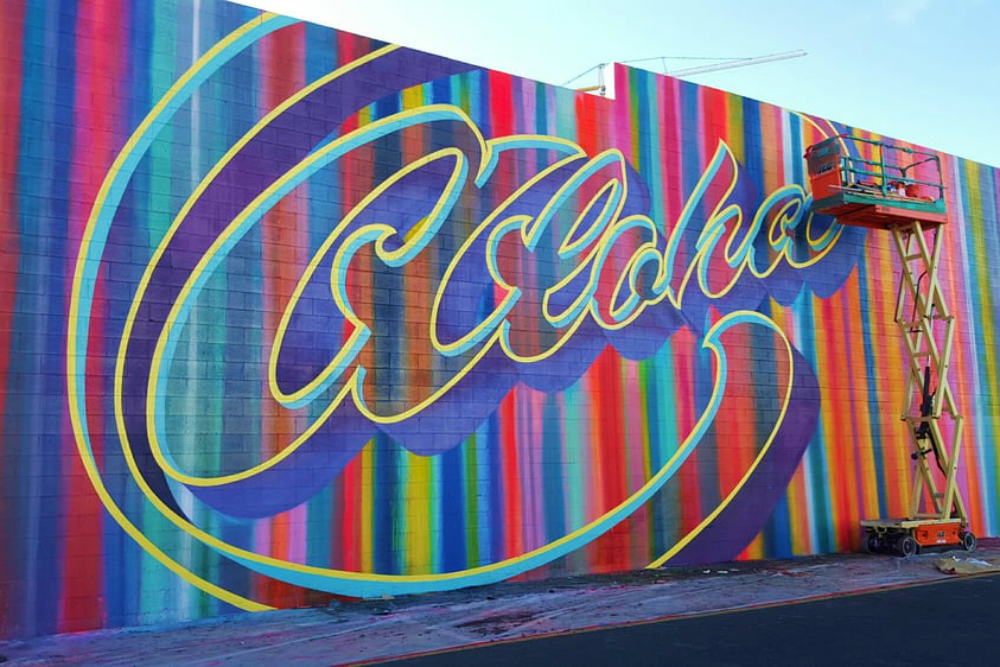 Why we're inspired:
Hawaii is as rich in the tradition of art as it is in natural wonders, and Honolulu has the goods to prove it. The Honolulu Museum of Art's works span 5,000 years, and the museum was founded in 1927, but it remains a vital hub of current artistic activity, from art workshops to lectures to dynamic events like the Bollywood Film Festival. Community arts centers are invaluable pieces of a thriving creative landscape, and Honolulu's The ARTS at Marks Garage is revitalizing Chinatown and the city as a whole with shows, classes, festivals, and First Friday Honolulu. POW! WOW! Hawaii gathers contemporary artists for a week-long event celebrating murals and other forms of art. Commemorate your time in town and let the artists at Old Ironside Tattoo leave their mark on you. The parlor is the site of the original Sailor Jerry's, the oldest tattoo shop in the state.
Population: 484,587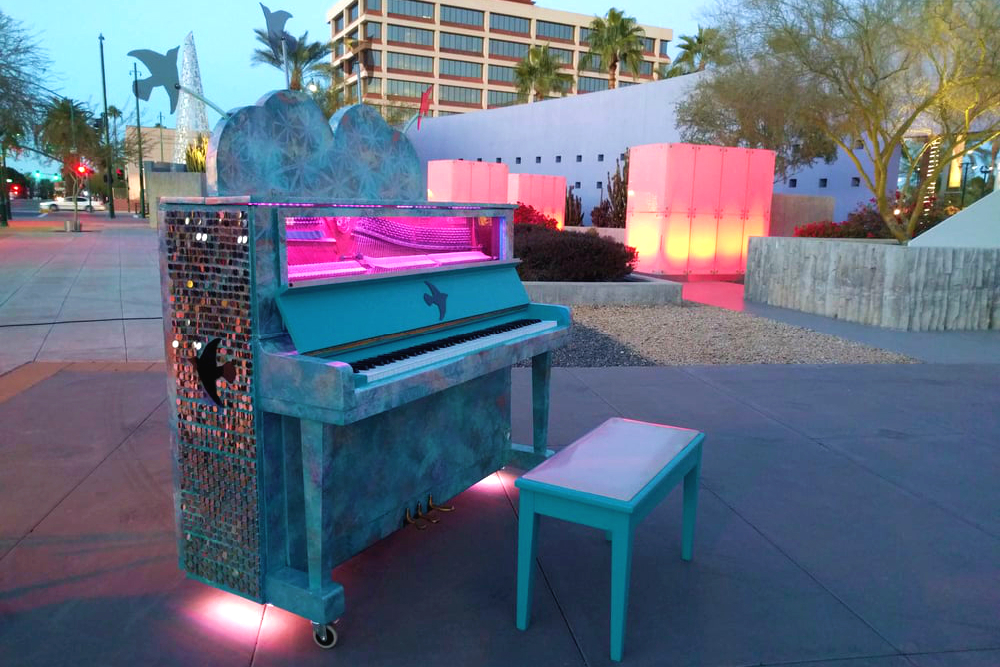 Why we're inspired:
Mesa may be located in the arid desert, but its cup runneth over when it comes to access to the arts. Downtown Mesa is well worth exploring, with its over 200 sculptures and art hub. Mesa Arts Center is a veritable one stop shop of creativity with spaces for events like WordPlay Café (an open mic for poetry, storytelling, and music), performing and studio art classes, Broadway shows and concerts, and exhibits in the museum. Mesa Contemporary Arts is a free, five-gallery complex that hosts changing exhibits by today's working artists. The MCC Performing Arts Center stages a wealth of music, dance, and theater, and the new art gallery at the school showcases student art. What's more, discovery blossoms early at the i.d.e.a. museum, which promotes children's exploration of creativity and learning.
Population: 621,849
Why we're inspired:
With one of the top-rated art schools in the nation, world-renowned museums and galleries, emerging underground scenes, and a packed calendar of events, this harbor city is piquing a lot of interest as one of the top art towns in America. We simply couldn't leave out its stellar contributions. The Maryland Institute College of Art's list of tenets is an impressive vision for an art-shaped future, including the sentiments, "we assert the centrality of artists, designers, and educators in society," and "we model a community of care," which are very worthy endeavors. Maybe you'll get a glimpse of additions to the Open Walls Baltimore project, which brings street artists from around the world to revitalize public spaces, or you can guarantee a view through a tour with the Greater Greenmount Community Association. Street artists are also displaying their talents at spaces like Graffiti Alley and Graffiti Warehouse, which are can't-miss experiences for lovers of the genre. For a great inside scoop on artistic happenings around town, keep your eye on BmoreArt, an essential print and digital publication of all things local art. Baltimore Office of Promotion & the Arts hosts the largest free arts festival in the country, Artscape, in July, and brings together over 150 artists and vendors that include dance, street theater, multiple genres of live music, film, visual art exhibits, and sculpture/installation.
Population: 681,170
Why we're inspired:
As the capital of the nation, D.C. symbolizes many things, and one of the most important is the deep connection to art and culture that our forefathers so valued. It was George Washington who wrote, "The Arts and Sciences, essential to the prosperity of the State and to the ornament of human life, have a primary claim to the encouragement of every lover of his country and mankind." Those sentiments ring true in all the spaces art thrives in the city, such as the National Gallery of Art, National Museum of African Art, and the Hirshhorn Museum and Sculpture Garden. America's first museum of modern art, The Phillips Collection, is alive and well, and you can experience works by Manet, Picasso, Adams, Gottlieb, Rodin, Kandinsky…the list goes on. While galleries like CONNERSMITH are exhibiting some of the greatest new works in the Washington, D.C. art scene, cutting-edge art schools like Corcoran School of the Arts and Design, Howard University, and Duke Ellington School of the Arts, are fostering bright new voices. Events such as the Women's Voices Theater Festival and the DC Shorts Film Festival are icing on an already incentive-heavy cake of reasons to visit.
Population: 842,051
Why we're inspired:
Charlotte's current art events calendar brims with ballet, theater, cultural gatherings, opera, museum exhibits, and myriad shows and scenes. The Arts and Science Council makes sure the community stays aloft with grants, programs, and educational opportunities. The Bechtler Museum of Modern Art features the family-built collection that encompasses a lot of midcentury modern European art. The Mint Museums, both Uptown and Randolph, are internationally and domestically focused, with pieces that range from modern sculpture to decorative arts to its exciting fashion collection. Blumenthal Performing Arts has been bringing top-notch performances to Charlotte since the early 1990s, and offers a potent infusion of culture into the community through its education department, staged works, and collaborations with area programs.
Population: 864,771
Why we're inspired:
Indianapolis has the largest concentrated population on our list, and it brings its A-game in the art department, too. Even quirky winter traditions have an artistic bent, like Veal's Ice Tree, for instance. This family-built local attraction has been consistently recreated since 1961, and it's nothing short of an artistic feat in all its colorful, icicle glory. More permanent collections can be found in the Mass Ave. Arts District or the Fountain Square Cultural District, where theaters and galleries have bloomed amid music venues, cafes, and restaurants. The Athenaeum lifts up the arts through programming and lively events within the beautifully gilded walls of a National Historic Landmark. Writers find their voice at Indiana Writers Center, where classes, workshops, and readings elevate the written word. Theater lovers unite through IndyFringe, whose efforts culminate in the popular festival, where "every imaginable genre of live theater" is on display. The deservedly highly acclaimed Indianapolis Museum of Art recently unified its campus areas into a sweeping oasis for art and nature, called Newfields, and it's a revelation of artistic harmony. It's a calm, centering, and inspiring place to visit, with garden paths, art in the park and the galleries, and even a beer garden on site.
Where have you seen amazing art?

[toggle title="Click here to see our 2017 list " state="closed"]Art has the power to move us in ways we didn't know were possible. It can evoke unexpected emotions, expand our world view, and connect us to new perspectives. Art lovers, travelers, and the curious among us have much to explore across this country, as great art can be found from corner to corner. Major metropolises consistently deliver, but other large cities house their share of masterpieces, both old and new. Mid-size cities can also surprise with way above average collections, but it's in the smaller cities where you'll perhaps discover something truly unexpected.
We gathered a group of places that embrace the art world in active and interesting ways. Broken up by population*, into small (10,000 – 100,000), medium (101,000 – 350,000) and large (351,000 – 1 million), these towns hit the mark when it comes to creativity. Also, we only considered cities with populations under 1 million (we had to stop somewhere, after all). From thriving art districts to international festivals to vibrant public art, there's plenty to soothe your creative soul. Highlighting the best of what these places offer, from most populous to least, here's our list of the most artistic cities in America.
[viewfinder-stack-images]
*As of the 2010 census
[/toggle]