By Chloe Mulliner, on April 3, 2017
20 of the greenest cities in the nation
When Earth Day rolls around, we're reminded to turn off the lights, do an extra-thorough job sorting our recyclables, and maybe even plant a tree or two. While it's great to take that initiative each spring, it's important that as a global community, we're always doing our part to make the planet a cleaner place to live.
Studies have shown that larger cities often score higher on the green scale because by nature, they become more energy efficient to meet the needs of a growing population. But Mother Nature doesn't play favorites. Just because larger cities have different resources than small- to medium-sized cities doesn't mean they should get all the credit.
Each city is at an equally important stage of the universal green movement, and we wanted to celebrate them all, both big and small (broken up by population). Some are known for their legendary Earth Day festivals, while others have brag-worthy conservation programs. We looked at their green restaurants, LEED-building ratings, eco-friendly hotels, and more to determine some of the greenest cities in America.
Large cities (population:* Greater than 350,000)
San Francisco, California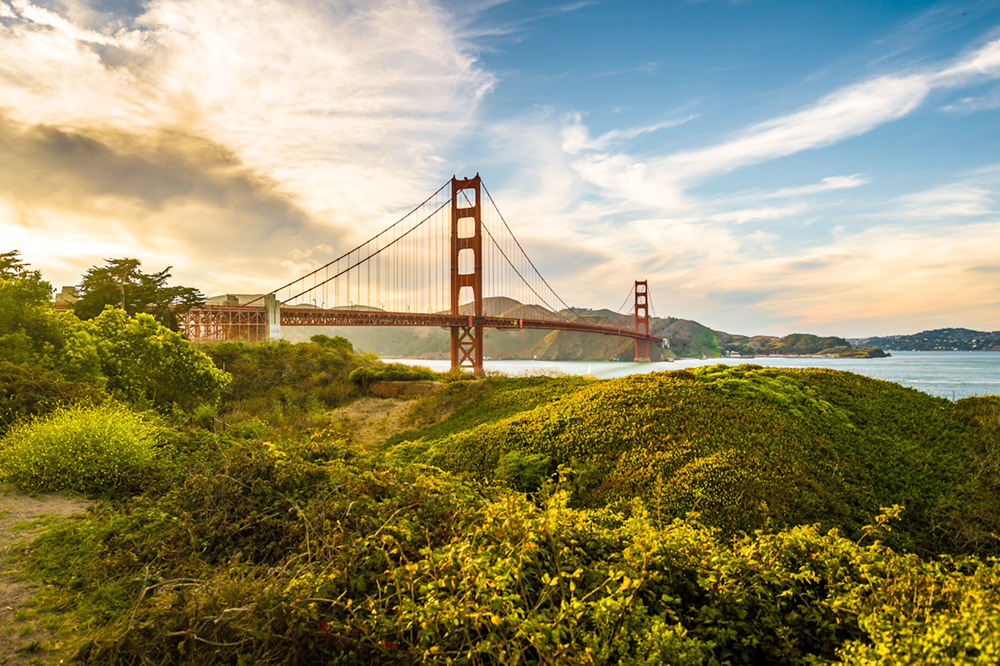 San Francisco has long reigned at the top of the green list, pushing for environmental improvements practically longer than global warming has been a household term. From its curbside composting program to its green building practices, the best things to do in San Francisco involve respecting Mother Earth.
Bragging rights:
SF is home to the eco-friendly Orchard Garden Hotel, which was the fourth hotel in the nation to earn a LEED-NC certification. It boasts energy-efficient roofing, low-flow toilets and faucets, and the option to turn the energy on and off in your hotel room.
More than half the MUNI bus fleet and light rails are zero-emission and the rest will follow suit with hybrid diesel by 2020.
With a major focus on sustainable food, the city has seen a surge in the vegan movement, with trendy restaurants like Gracias Madre that serve socially responsible and meatless meals.
Seattle, Washington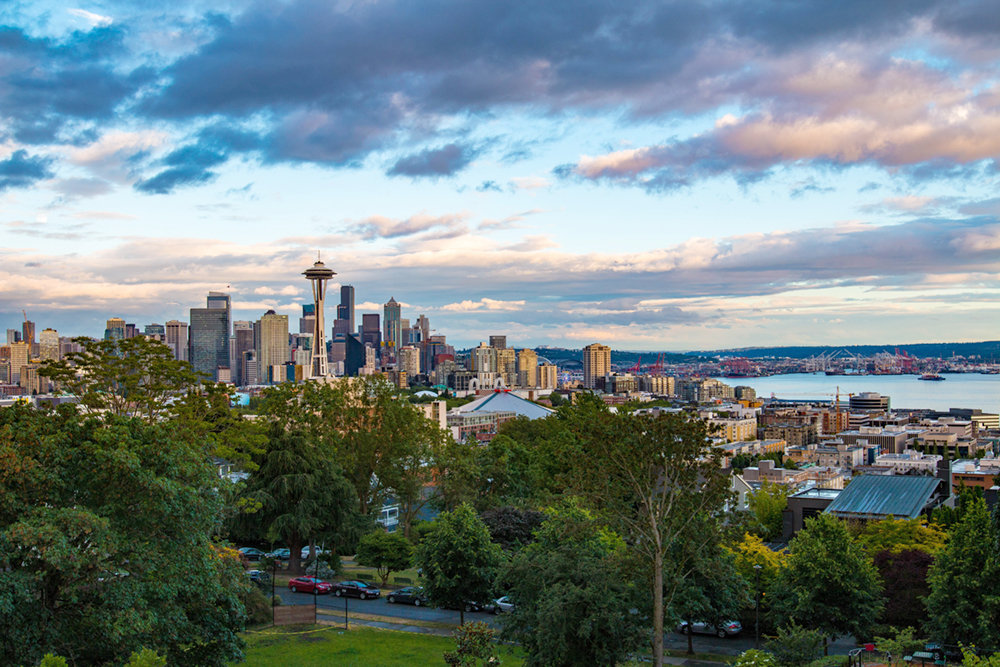 Mean, green Seattle has been on the eco-friendly train for a while now, and it's not slowing down anytime soon. Its very own Climate Action Plan, implemented in 2013, has committed the city to a goal of total carbon neutrality by 2050.
Bragging rights:
Seattle is one of the few U.S. cities that has been awarded the prestigious 5-STAR Community Rating, which recognizes its efforts toward sustainability.
Seattle City Light, the nation's first carbon neutral electric utility, has earned the city major props in the environmental space.
Green efforts even extend to Seattle's kitchens, where restaurants such as Mashiko serve 100% sustainable fish, while Local 360 Café & Bar sources the majority of its raw ingredients within 360 miles of the city.
Chicago, Illinois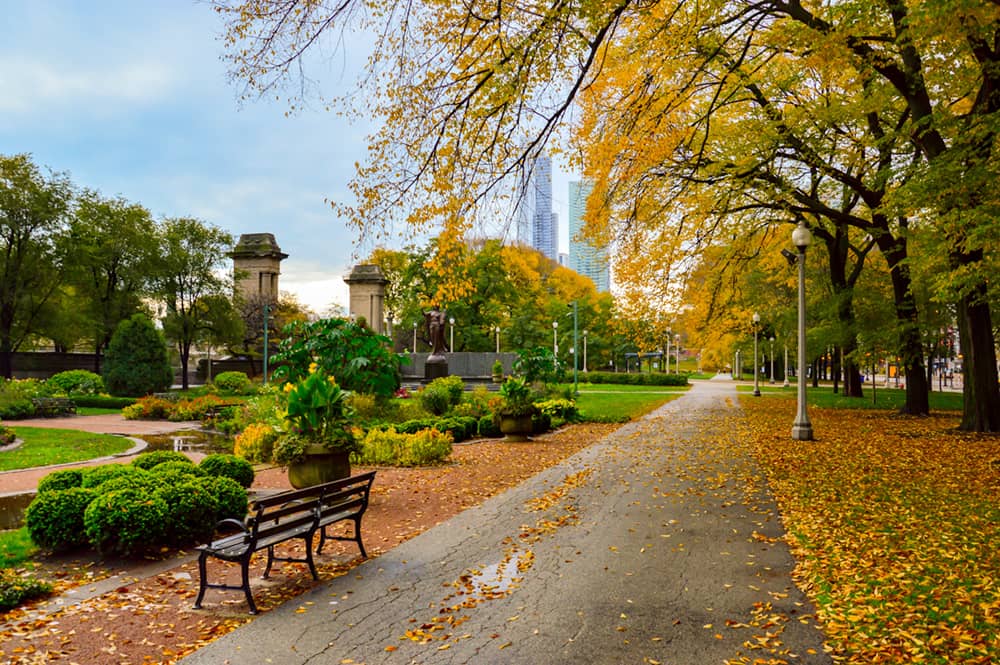 Chicago is known for its towering skyscrapers, but it's not all shiny buildings and concrete sidewalks. Believe it or not, the city has 12,000 acres devoted to public parks, which include community gardens and forest preserves.
Bragging rights:
Chicago has one of the nation's highest number of green roofs, which are covered in vegetation.
Here you'll find Hotel Felix, the first accommodation in the city to receive the Silver LEED certification. Its planet-friendly initiatives include low-energy lighting and carpets made from recycled materials.
There are green-certified restaurants in town, such as Frontera Grill, which uses ingredients from local Midwestern farms.
Albuquerque, New Mexico
This western city has over 400 miles of land dedicated to bike paths and trails, and is said to have the most parkland per person in the nation. In addition to its commitment to green space, Albuquerque has a strong focus on water conservation and solar energy.
Bragging rights:
In 2010, the nation's first solar-powered farmers market opened in Robinson Park. The vendors sell local goods, and any electricity needed is generated by the sun.
The Albuquerque City Council approved an initiative to power certain buildings with 25 percent solar energy by 2025.
Los Poblanos Historic Inn & Organic Farm invites guests to stay on 25 acres of lavender fields, dine on fare straight from the gardens, and contribute to the property's environmentally conscious practices.
Portland, Oregon
To Portland, green isn't just a trend, it's a way of life. The city has been on the green path for several decades, as it proved early on in 1974 when it closed a six-lane freeway to make way for green space.
Bragging rights:
Portland is seriously bikeable, with one of the highest rates of commuters biking to work in the nation. The city even has HopWorks Urban Brewery's BikeBar, with 75 bicycle spaces and stationary bikes, which generate electricity as you cycle.
Ever since 2001, the city's Green Building Policy has required certain buildings to follow specific green building standards.
The city's Tilikum Crossing is the largest carless bridge in the country, only permitting transit services, cyclists, and pedestrians to cross it over the Willamette River.
Medium cities (population:* 100,001 – 350,000)
Honolulu, Hawaii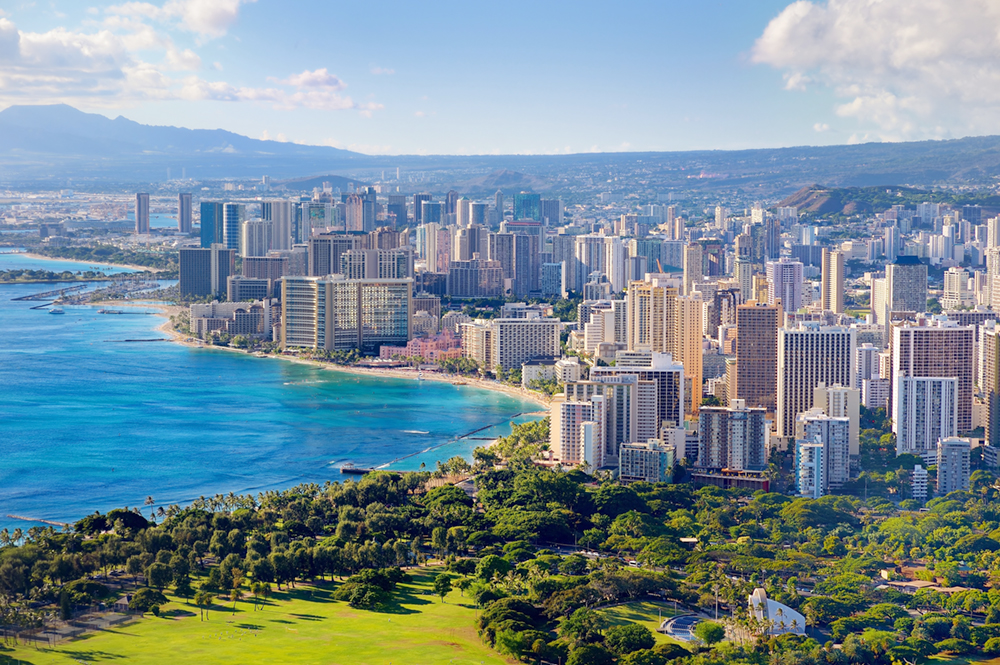 Surrounded by the deep blue sea, it's no wonder Honolulu cares for the water. To help save the ocean from further pollution, this eco-conscious city promotes permablitz, a movement in which volunteers plant permaculture gardens to reduce storm water runoff.
Bragging rights:
Environment America Research & Policy Center recently determined that Honolulu has the most solar power per capita out of any major city in the U.S.
Each year, the city hosts He Waʻa, He Moku – Mālama Honua: Caring for Our Island Earth at the Hawai'i Convention Center. This major conservation event invites policymakers, scientists, and community members to discuss the urgency of sustainability.
Eat with peace of mind here, where a number of local eateries, including Bevy, Mahina and Sun's, and Town Kaimuki, are Ocean Friendly Certified. This means they follow specific recycling processes and do not use Styrofoam containers.
Fort Collins, Colorado


When it comes to green thinking, Fort Collins always has the earth on its mind. Whether it's renting out community garden space or earning a Tree City USA award for 33 straight years, it belongs among the cleanest cities in the United States.
Bragging rights:
Fort Collins is proud to claim Colorado State University as its own. Ranked as one of the nation's greenest colleges, CSU is a sustainable campus and the first school to receive a Platinum STARS rating.
Fort Collins Sustainable Living Association hosts a variety of green efforts around town, from the annual Earth Day event at Civic Center Park to the Highway Cleanup along Poudre Canyon.
Get ready to cycle, because Fort Collins Bike Share recently added new stations and wheels to its fleet. The program now offers 17 stations and 91 bicycles for rent around the city.
Grand Rapids, Michigan
Between its Silver Line fleet of hybrid electric buses and the thousands of acres of parkland, Grand Rapids is eager to make the earth a better place. To further catapult the city into eco-friendly territory, the Green Grand Rapids department teams up with the community to focus on sustainability.
Bragging rights:
Downtown Market is perhaps as green as it gets with living roofs, rain gardens, and geothermal walls. It's also one of the first markets in the country to earn Gold LEED-certified status.
You won't find any chemicals on the pastures at the local Lubbers Family Farm, where they raise grass-fed beef and hormone-free pork.
Working toward a goal of 40 percent tree canopy, the city planted hundreds of trees during the inaugural Mayor's Greening Initiative tree planting, and plans to continue doing so each year.
Fargo, North Dakota
Fargo knows that saving the planet starts with saving energy. This earth-friendly city does its fair share of energy conservation, but the local Green House Café and Element Fargo contribute to the movement in a variety of ways, too.
Bragging rights:
The Fargo City Landfill has a generator that makes electricity from decomposing garbage. It also features solar panels and a wind generator that produce additional power.
Look up and you'll see LED traffic lights, which last longer and use less electricity than traditional incandescent lights.
The Fargo Project, a community group within the city, is currently working on the World Garden Commons, the transformation of a storm water basin into an ecological commons.
Garland, Texas
Don't mess with this Texas city's green movement. Garland is making strides toward bettering the environment, from The Marketplace, where you can find local goods, to the nature trails at Duck Creek and John Paul Jones Park.
Bragging rights:
Loving Garland Green is a community organization dedicated to planting urban gardens and raising sustainable awareness, from composting and harvesting rainwater to donating crops to local food banks.
Garland's LiveWell GoGreen Expo is a much-anticipated event each year, where you'll find healthy earth booths that show you ways to better recycle and conserve.
Since 1989, the Garland and Preservation Society for Spring Creek Forest has worked hard toward protecting the woodland area, keeping out invasive species and maintaining the nature trails.
Small cities (population:* Up to 100,000)
Burlington, Vermont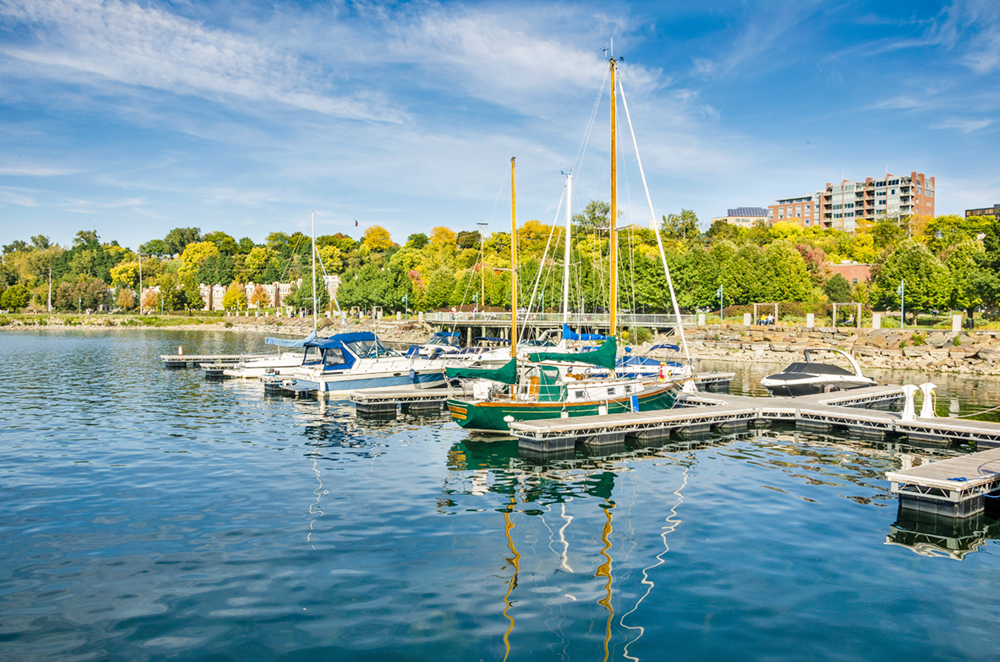 You didn't think we'd forget America's first all-renewable-energy city, would you? In the green sphere, Burlington is a tough act to follow, as it's been running on 100 percent renewable energy for several years.
Bragging rights:
Burlington has a facility that converts wood chips (from sustainably harvested trees) into electricity that then supplies energy to the city.
Practically every day is Earth Day here, but on the actual date, Burlington will be celebrating the 21st Annual Earth Day Tree Planting Fest.
It takes an army to maintain Burlington's high green standards, and you'll come across countless eco-focused organizations in town, including Creating Healthy Habitats, Greenprint for the Future, and even Kids Go Green, because it's never too early to learn about the environment.
Roanoke, Virginia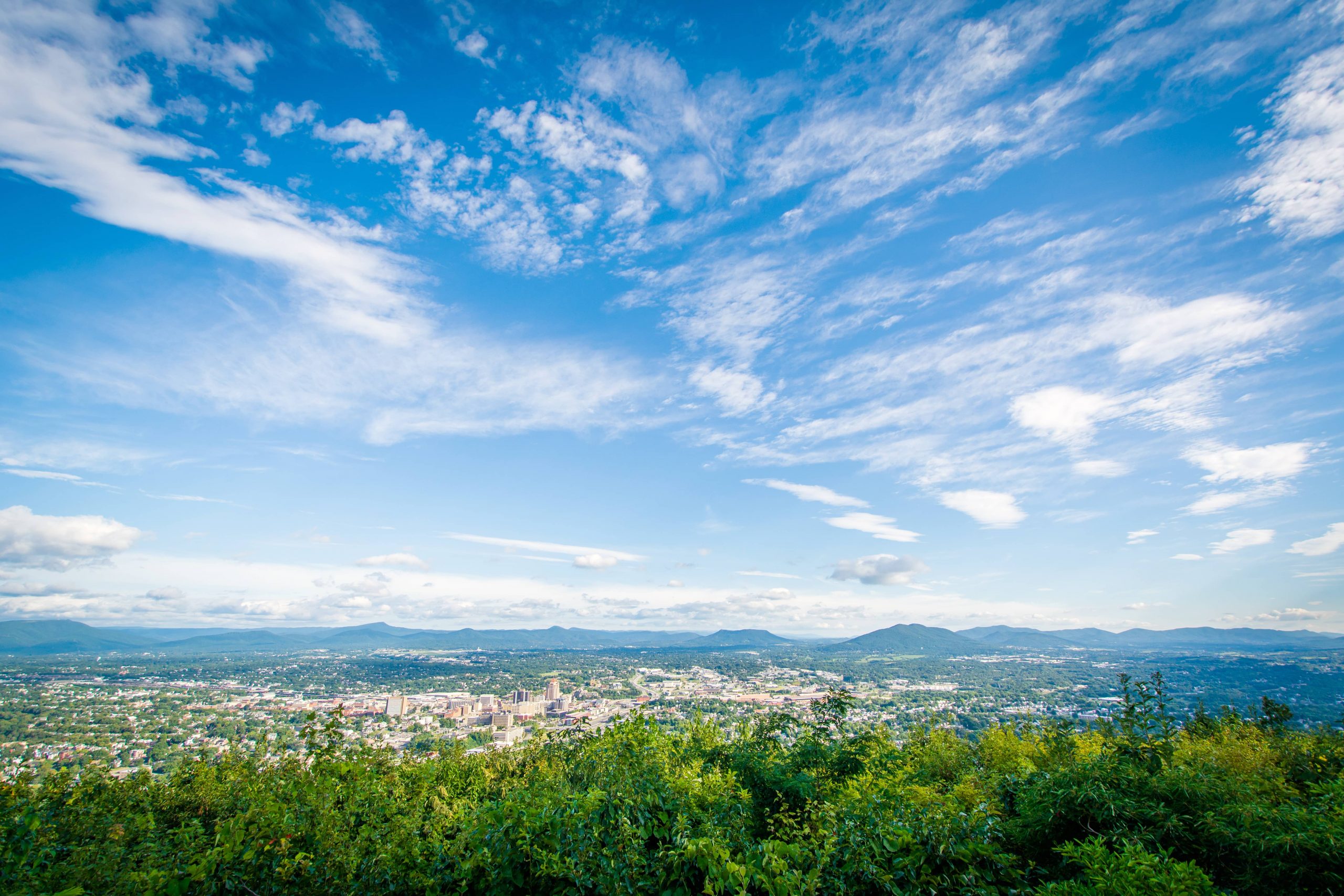 Roanoke knows that the greenest cities in America have been fighting the good fight for a long time—you can't go green overnight. Its Historic Roanoke City Market, which has been running since 1882, is proof that this city has long appreciated locally sourced goods, among other environmental efforts.
Bragging rights:
Roanoke takes its green (and blue!) spaces seriously. The entire county has 30 miles of urban trails for biking and walking, and it also boasts the Roanoke River Blueway, a 45-mile water trail.
Going strong for 28 years, the city's annual Earth Day Roanoke Festival offers an opportunity for community members to learn about eco-friendly practices and get involved with the green movement.
Chow down with a healthy conscience at Local Roots, an eatery in town that lives by the principles of sustainability, organic, local, and ethical.
Healdsburg, California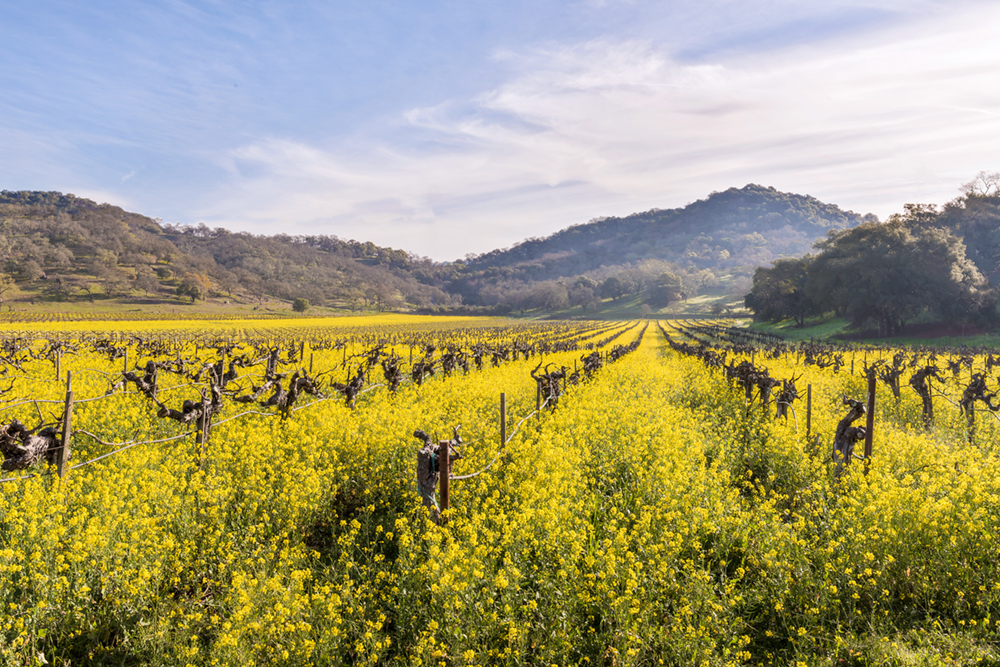 California has a reputation for being a little on the hippie side, and if that translates to eco-friendliness, we're sure Healdsburg won't mind being guilty by association. This Northern California city has a green mindset, as it hosts events such as the Foss Creek Cleanup and has the finest farm-to-table eateries, like Barndiva.
Bragging rights:
In 2008, the city opened the Healdsburg Ridge Open Space Preserve, an impressive 155-acre park with hiking trails through natural ecosystems, such as wetlands and oak woodlands.
Consistently recognized as one of the nation's greenest places to stay, the local h2hotel has a living roof, sustainable bamboo flooring, solar panels, and even an EcoSpace elevator that uses 60 percent less energy than a traditional elevator.
Sip some certified organic wine at Alexander Valley Vineyards, a sustainable winery that is recognized as a Bay Area Green Business. The vineyard minimizes waste, uses solar panels, and plants cover crops, along with various other eco-conscious practices.
Poultney, Vermont
Tucked in southwestern Vermont, Poultney is a green playground with its sparkling Lake Saint Catherine and rustic Lewis Deane Nature Preserve trails. The town knows the way to a greener future is through education, and its local college campus is forging the way.
Bragging rights:
Poultney is home to Green Mountain College—and green isn't just in its name. Princeton Review named it the country's second greenest college, thanks to it reaching climate neutrality and requiring an environmental curriculum.
To show its support of the planet, the city is celebrating the 10th Annual Poultney Earth Fair, in which the community gathers to discuss environmental issues through presentations, activities, and discussions.
Various city programs such as the Poultney Mettowee Natural Resources Conservation District encourage environmental citizenship through educational programs and outreach.
Middleburg Heights, Ohio
The most environmentally friendly cities understand that nature preservation plays a big part of the picture, and Middleburg Heights is in on it. The city is home to Lake Isaac Waterfowl Sanctuary, which has a scenic trail that connects to Fowles Marsh, part of the Lake Abram wetlands.
Bragging rights:
The city's EarthFest is said to be the nation's longest running Earth Day event and the largest environmentally focused education event in the state, presenting more than 270 exhibitors this year.
Middleburg Heights knows the drill when it comes to local produce. Willie's Farmers Market has been selling crops at its farm stand for nearly 70 years.
The Arbor Day Foundation has presented the Middleburg Heights a Tree City USA Award for 20 years in a row.
Greensburg, Kansas
After a tornado destroyed the town of Greensburg in 2007, the community made a commitment to build a brighter, cleaner future. Ten years later, this small town has made a major name for itself on the green scene.
Bragging rights:
Earning the title as the second city in the country to go entirely renewable, it gets all of its electricity—plus some—from the Greensburg Wind Farm.
The town rebuilt every building according to LEED-Platinum standards.
City Hall is a symbol for the town's green revival, as it incorporates solar panels, energy-efficient lights, and drought-resistant plants, along with various other sustainable elements.
Homer, Alaska
A city surrounded by wildlife, Homer knows the importance of conservation. The city proudly sits along Kachemak Bay State Park, the state's only wilderness park, and the Kachemak Bay National Estuarine Research Reserve—both of which are protected regions.
Bragging rights:
Ecotourism is a major draw in this part of the state, from catching sight of grizzlies with a Scenic Bear Viewing guide to taking a wildlife photography tour through AK Adventures.
In Homer, you can visit the state's largest protected wildlife area, the Alaska Maritime National Wildlife Refuge, and join an educational nature tour with the Center for Alaskan Coastal Studies.
The LEED-Silver-certified Homer Public Library does its part in limiting its stress on the environment by incorporating repurposed local building materials.
Key West, Florida


It's easy to lower your carbon footprint in Key West, where practically everything is a short stroll or bike ride away. Tucked in the southernmost region of the U.S., this island city is famous for its sustainable fishing practices and plethora of ecotourism attractions.
Bragging rights:
Key West has a number of organizations working together for the betterment of the coastal environment, from Keep Key West Beautiful to Green Living & Energy Education.
The Green Room, Key West Florida's World Famous Local Hub and Eco Pub is a small bar with a big commitment to the planet. It's an eco-aware music venue, designed with upcycled resources, that serves organic cocktails, while offering a percentage of proceeds to local initiatives.
Stay on the green path with reservations at The Banyan Resort, a certified Green Lodging Facility and member of the GLEE Green Business Program. Between its xeriscape that uses little to no irrigation and its energy-efficient appliances, this hotel is a major friend of the environment.
Greenville, South Carolina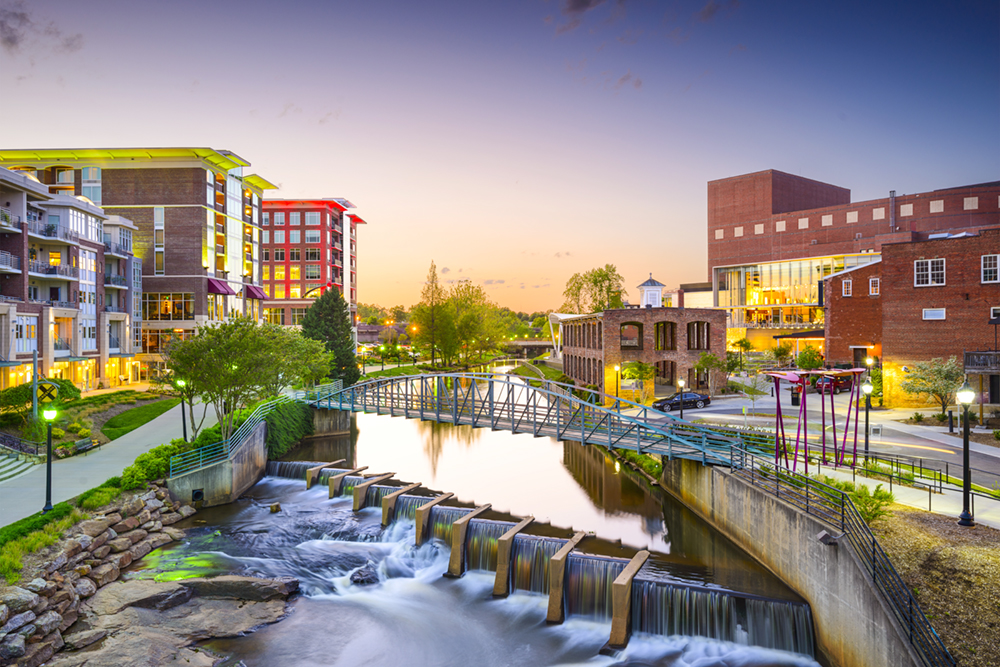 Its eco-friendly sounding name may be a coincidence, but Greenville is very much dedicated to environmental activism. The city has more than 400 acres of parkland and a program called Bikeville, which encourages people to ditch their four wheels for two wheels.
Bragging rights:
The Green Restaurant Association named Greenville's very own Kitchen Sync the number one green certified eatery in the country. The environmentally mindful restaurant whips up locally sourced cuisine on energy-saving appliances to ensure it does its part in protecting the planet.
The Greenville hospital, Bon Secours St. Francis Health System, has steadily received the National Practice Greenhealth Environmental Leadership Circle Award due to its drive to reduce its energy usage.
The city made the Environmental Protection Agency's 2016 list of U.S. cities with the most buildings that are Energy Star certified.
Cape Elizabeth, Maine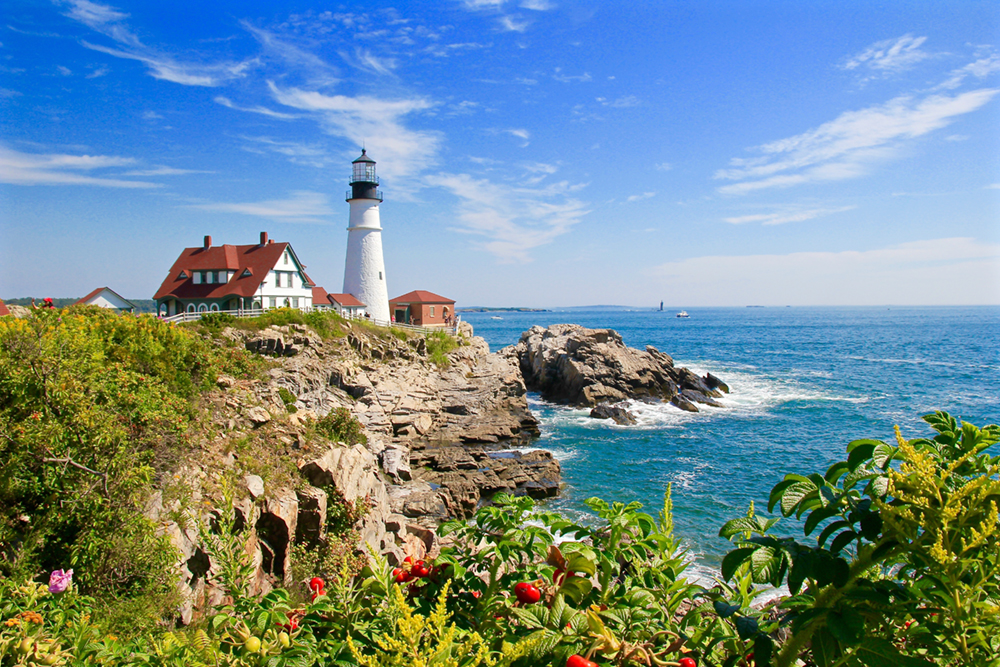 The moment you arrive in this seaside spot, you'll recognize its devotion to wide open spaces. From its 90-acre Fort Williams Park that encourages natural biodiversity to Great Pond, the town's largest wetland, Cape Elizabeth makes Mother Earth smile.
Bragging rights:
Ram Island Farm is just one of the many local operations that have teamed up with the Cape Farm Alliance to promote sustainable farming practices in the Cape Elizabeth region.
The city's first Greenbelt Plan dates back to 1977, when Cape Elizabeth initially began expanding the trail system and preserving land for wildlife and the town's rural nature.
Inn by the Sea has been carbon neutral since 2007. Here they focus on water reduction, offer planting classes for guests, and even serve farm-to-table meals.
*According to the United States Census 2010
Is your city one of the most sustainable cities in the nation?